For the past year, employees have been undergoing medical screenings and answering questions about their personal health to gain access to their physical workplaces. Employers can lawfully request their health status or require them to take leave from work if they appear to have symptoms of COVID-19. Despite laws protecting employee privacy and the dignity of being in control of our own medical decisions, the public health emergency resulting from the spread of COVID-19 has drastically changed the landscape when it comes to employment decisions based on disability or perceived disability, the duty to reasonably accommodate and the prohibition against workplace retaliation.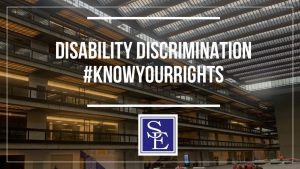 The Equal Employment Opportunity Commission (EEOC) is a federal agency that enforces workplace anti-discrimination laws, including the Americans with Disabilities Act and the Rehabilitation Act. The Americans with Disabilities Act makes discrimination based on disability illegal and protects from retaliation individuals who exercise their rights under that law. Other laws, including state and local laws, such as the New Jersey Law Against Discrimination and the New York City Human Rights Law, provide employees with additional protections. Anti-discrimination laws continue to apply during the time of the COVID-19 pandemic, but they must coexist with guidelines released by the Centers for Disease Control (CDC) and state and local health authorities concerning, among other things, an employer's right to access employees' medical information and perform health screenings in the workplace. The intertwining of anti-discrimination laws and public health regulations in the current climate has created a question about whether a COVID-19 infection or perceived infection qualifies an employee for anti-discrimination protection based on disability. The answer will be different depending on whether federal or state law governs the employment relationship, and if state law, which state.
Disability discrimination occurs under the federal Americans with Disabilities Act when an employer treats an employee unfavorably because he or she has a disability, has a history of a disability (such as cancer that has entered remission), or because the employer believes the employee has or used to have a disability. However, not all medical conditions equate to disabilities under the legal definition of the term. A person can show that he or she has a disability in one of three ways: (1) he or she has a physical or mental condition that substantially limits a major life activity (such as walking, hearing, learning, or limits the operation of a major bodily function); (2) he or she has a history of such a disability (past depression that is currently being successfully treated); or (3) he or she is subject to an adverse employment action (such as demotion, termination or a change in job duties or pay) due to the employer's belief that he or she has a physical or mental impairment that is more than something minor and temporary.