The COVID-19 pandemic has forced many New Jersey employees to work in unsafe work environments.  Facing increased risk of exposure, many employees are rightfully concerned that they will become infected or infect others because of their employer's failure to have in place proper safety measures limiting the spread of COVID-19 at the workplace. Not surprisingly, many New Jersey workers who are forced to work in unsafe working environments have voiced objections to their employers, governmental officials and others concerning the unsafe work environments. With the increased number of employee complaints, many complainants are left wondering whether they have any legal protection against their employers who have taken adverse employment action against them in retaliation for their complaints. While we indeed may be living in unprecedented times, the COVID-19 pandemic is not a defense available to employers who choose to retaliate against employees for making reasonable and good faith complaints concerning unlawful workplace issues. Luckily for New Jersey workers, the state's strong whistle-blower laws can provide employees with legal protections should they be fired from their jobs for complaining about unsafe work environments, improper quality of patient care or other unlawful business activities.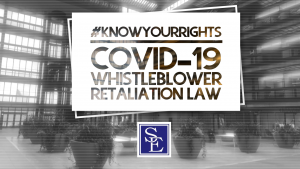 The New Jersey Conscientious Employee Protection Act is often described as being one of the most far-reaching, pro-employee, whistleblower statutes in the United States.  The purpose of the New Jersey anti-retaliation law is to protect whistleblowers from being retaliated against when they disclose, complain, object to or refuse to participate in certain actions at the workplace that he or she has a reasonable belief to be either unlawful, in violation of public policy or improper quality of patient care, should the employee be a licensed or certified health care professional.  A retaliatory action can manifest in the form of a demotion, suspension, termination or other forms of adverse action that would dissuade a reasonable worker from making or supporting a charge of unlawful retaliation.
Governor Murphy's Executive Order No. 107 may also provide COVID-19 whistleblowers with additional legal support that their COVID-19 related complaints are protected under the New Jersey whistleblower law.  While Executive Order No. 107 bans many non-essential retail businesses from operating during the pandemic, it also places obligations upon essential or non-retail businesses and how they need to operate their business during the pandemic. For example, all businesses must accommodate their workforce, wherever practical, for telework or other work-from-home arrangements.  Additionally, for employees who cannot perform their job duties via telework or work-from-home, businesses should make best efforts to reduce staff on site to the minimal number necessary to ensure that essential operations can continue. Many businesses are ignoring these requirements in running their business during the pandemic.