The absence of pay equity between men and women, commonly known as the "gender wage gap" has been a newsworthy yet unresolved manifestation of gender discrimination for decades. Pay inequities exist in virtually all industries and professions and are not limited to gender disparities.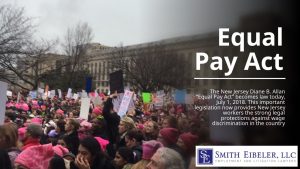 Most recently, one of New Jersey's premier educational institutions, Princeton University, settled a lengthy dispute over whether it was paying female professors equally to male professors. On average, a full-time professor at Princeton earns over $200,000 per year, but there are variations in pay that Princeton asserts are dependent on department, job performance, and the market-driven economics of filling top spots in academia. But when the U.S. Department of Labor conducted a federal pay discrimination investigation into Princeton's compensation structure, its findings indicated discriminatory pay practices along gender lines. The Department of Labor's review of salaries between 2012 and 2014 found that among professors, women were being paid less than men despite holding the same jobs and having the same experience and credentials.
Princeton contested the Department of Labor's findings for years and still admits no culpability, arguing that the investigation was flawed. It has, however, finally agreed to pay nearly $1.2 million — including $925,000 in back pay and at least $250,000 in future salary adjustments — to female professors, including those who have left the university. Under the Early Resolution Conciliation Agreement between Princeton and the Department of Labor, Princeton will award back pay to the 106 female professors identified by the investigation as having been underpaid between 2012 and 2014 and award future pay raises. Princeton also agreed to analyze faculty salaries at the time of hire and in its annual merit increase process, to make sure there are no future pay gaps between male and female employees. In a statement, a Princeton spokesperson said that the university would engage in hiring initiatives in fields that typically have a low representation of women and encourage women to serve in leadership positions such as deanships. It will also train employees on pay equity.