The New Jersey Appellate Division has ruled that an employer's pregnancy leave policy that requires pregnant employees to exhaust their accrued paid sick and vacation time to be in violation the New Jersey Law Against Discrimination.  In finding for the employee in the reported decision of the the entitled Delanoy v. Township of Ocean, the analyzed the New Jersey Pregnant Workers Fairness Act, an amendment to the Law Against Discrimination dating back to January 17, 2014, which specifically made pregnancy a protected class under the state anti-discrimination law.  The court's decision is being viewed as a significant legal victory of New Jersey pregnant worker's rights.
The appeal arose from a suit brought by an Ocean Township police officer, alleging pregnancy-based discrimination in connection with her request for an accommodation related to her pregnancy. Specifically, she claimed that the Township's policy regarding pregnant workers is discriminatory on its face and that the requirement that she exchange her accrued PTO as a condition of her accommodation amounted to an unlawful penalty.When Plaintiff became pregnant, she submitted a doctor's note to the Township advising them of her pregnancy and her need to be transferred to a light-duty position. Plaintiff sought the transfer from September 22, 2014 through the end of her pregnancy, in March 2015.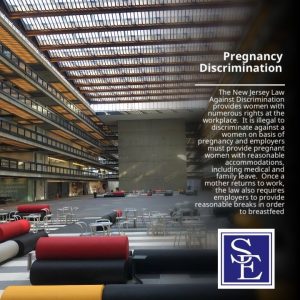 On or about September 22, 2014, Plaintiff was provided an administrative position in the Township's Department of Records, and was further assigned to receiving walk-in complaints at the police station. In her role as the walk-in officer, Plaintiff did not feel comfortable as her pregnancy precluded the use of her firearm and the position had dangerous propensities. Nevertheless, she performed her duties as instructed. Despite her ability to work and prior to her expected due date, around February 25, 2015, the Township forced Plaintiff to take her pregnancy leave early and begin using her PTO. In total, Plaintiff was required to deplete 2 weeks of PTO.