For New Jersey employees, the short answer is yes.  On March 20, 2020, Governor Murphy signed into law new legislation that makes it unlawful for an employer to take adverse employment actions, including termination, against any employee for requesting or taking time off from work because the employee has or is likely to have the Coronavirus. The new law, A3848, comes in the wake of the Public Health Emergency and State of Emergency declared by Governor Murphy earlier this month. This new Coronavirus job protection law will provide victims of the virus with much needed protections from losing their job or being denied reinstatement.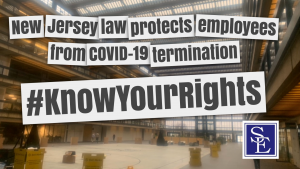 The legislation was enacted as a part of the New Jersey's continued efforts to deal with the Coronavirus pandemic and the devastating impact is having and will continue to have on individuals and their employment. In the last few weeks, the number of confirmed cases of Coronavirus in New Jersey has continued to climb and is expected to continue to rise expenditionaly. Among the attempts to slow the spread of the disease, medical professionals have advised those who have contracted or are suspected to have contracted the novel Coronavirus to quarantine themselves. Even those individuals who have not come in to contact with the disease are being urged to practice social distancing, isolating themselves in an attempt to limit potential exposure to the disease. As Governor Murphy stated in one of his recent press briefings, "Quite simply, stay at home."
Prior to the passing of this Coronavirus job protection law, it was unclear what sort of job protection a quarantined individual would have during the Coronavirus outbreak. The New Jersey Law Against Discrimination, which provides employees protection from discrimination and retaliation in the workplace, has a broad definition of "disability" that includes certain types of serious illnesses. However, some courts have interpreted the New Jersey Law Against Discrimination's broad provision concerning disabilities not to cover transient illnesses such as the flu. While the Coronavirus is concernedly much more serious than the common flu, it remains unclear whether the New Jersey Law Against Discrimination is a viable avenue to relief for affected employees.