Statistics show people with disabilities in the United States are twice as likely to be unemployed than those without a disability. The issue has been exacerbated during the coronavirus pandemic, which has caused joblessness to rise and an increase of workplace disability discrimination. But underlying the conversation about getting people with disabilities back to work is a controversial debate about where and what type of work people with disabilities should have access to and be provided reasonable accommodations.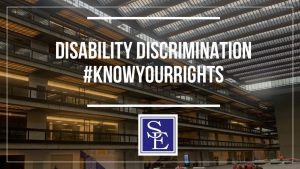 In September 2020, Governor Murphy announced that a total of $1,312,500 of CARES Act funding will be used to reopen 26 sheltered workshop programs throughout New Jersey which have been closed for close to a year due to the Covid-19 pandemic. In making this announcement, supporters credited sheltered workshops with providing "a positive and valuable service for our developmentally disabled community", and "a safe work environment that cultivates their skills and abilities". However just 4 months later, in January 2021, some of those same supporters advanced the argument that our state government should be doing more to help individuals with disabilities find inclusive and competitive employment. So what is a sheltered workshop and how is it different from an inclusive and competitive workplace?
A sheltered workshop is an employer that is authorized under New Jersey's Wage and Hour Law to employ individuals with disabilities at a rate less than the minimum wage. Specifically, Subchapter 9 of the Wage and Hour Law, defines "individual with disability" as someone whose earning capacity is impaired by a physical or mental disability and "sheltered workshop" as a charitable organization focused on rehabilitation, employment or vocational training for individuals whose earning capacity is thus impaired. The law is based on the faulty logic that a person's disability is the main factor impairing his or her earning potential, and not the law itself which explicitly degrades that potential. These sheltered workshops apply for permits with the Office of Wage and Hour Compliance which authorize them to employ individuals with disabilities at less than minimum wage. Only people with disabilities can be employed under these special permits, ensuring that all non-disabled employees are paid higher wages.
However, some people with disabilities, and often the aging parents of adults with severe intellectual and developmental disabilities find sheltered workshops to be valuable places of learning, socialization and pride for the workers and perhaps respite for their caregivers. Even if most of these workers never enter the competitive labor market and rarely learn compensable vocational skills, the workshops are better than nothing. In essence, sheltered workshops are a short-term solution to a long-term problem. Individuals with disabilities and their families have very little support helping to establish independence and self-sufficiency on the part of the disabled individual, so the existence of somewhere to go that makes the individual feel needed, accepted and productive is considered a blessing even though it does nothing to establish financial independence, personal autonomy or equality for people with disabilities.
Many members of the general public are unaware that it could be legal to pay disabled people subminimum wage based on the premise that they are disabled, but the history of the sheltered workshop stretches far back into our nation's history to a time when the segregation of people with disabilities from their non-disabled peers was considered medically necessary. They arose after the Fair Labor Standards Act was passed in the 1930s, when the employment of the disabled paternalistically became known as "sheltered work," because it was perceived to protect disabled individuals from the competition of the outside world. At the time, they were an improvement from living each day locked up in an institution. The special certificates these workshops could apply for were intended to allow them to pay individuals based on their productivity, with the assumption being that a disabled worker would be less productive than a non-disabled worker, thereby entitling him or her to lower wages. The Rehabilitation Act in 1973 and the Americans with Disabilities Act in 1990, which were created to prevent segregation and provide for the equal status of those with disabilities, have not yet helped them secure competitive jobs.
Disabled people and those who advocate for equality alongside them have begun pushing for fair pay and work in the general community, not in segregated environments. This is known as competitive integrated employment, and it acknowledges that disabled people can and should be able to secure work in the competitive labor force, even if some individuals need extra job training or assistance. Sheltered workshops used to exist across the nation, but in recent years, several states have taken steps to abolish them, shifting their focus to training people with disabilities for competitive employment at a living wage. New Jersey is not one of those states.
The Case for Inclusion Report 2019, published by United Cerebral Palsy and ANCOR Foundation and based on data from 2016, showed that New Jersey ranks in the bottom 20% of states when it comes to promoting independence and productivity for disabled individuals. Only seven states report having at least 33% of individuals with intellectual and/or developmental disabilities working in competitive employment. These states include Connecticut, Maryland, Massachusetts, New Hampshire, Oklahoma, Vermont, and Washington. New Jersey ranked #43 out of 50 states and the District of Columbia in its employment of people with disabilities. The State is seemingly working to change that ranking despite its planned reopening and funding of sheltered workshops, as evidenced by two new proposed bills currently under consideration in the state legislature.
On January 27, 2021, Assembly Bill 5294 was introduced. This bill would officially recognize the value individuals with disabilities offer to public employers and would establish a fast-track hiring program for qualified persons with significant disabilities. Under the bill, the Civil Service Commission, in consultation with the Division of Equal Employment Opportunity and Affirmative Action, would oversee the hiring and promotion process, allowing a person with significant disabilities to be appointed to an unclassified service position, or a noncompetitive temporary position or noncompetitive permanent position in the career of civil service. The bill would also guarantee any person with significant disabilities a good faith interview for a position in the state workforce if they request one.
Senate Bill 2806, which was introduced on August 13, 2020, would allow corporation business tax and gross income tax credits to private businesses that employ qualified persons with developmental disabilities. A qualified person will be someone who has a severe, chronic and likely permanent disability that limits his or her function in an area of major life activity, and who either requires lifelong coordinated services or a diagnosis of intellectual disability, autism, cerebral palsy, epilepsy, spina bifida, or another neurological impairment. These state tax credits are intended to encourage employers to hire this targeted groups of employees, thereby reducing barriers to competitive employment.
While New Jersey appears to be taking steps in the right direction, there is much support for the working disabled community that has not yet been addressed with these proposals. To ensure equality for individuals with disabilities in employment, the state must provide supports on the job, guarantee at least minimum wage, guarantee a certain number of hours per week, provide transition services for high school students such as internships and mentoring programs, and establish significant, long-term funding. The segregation of people with disabilities into sheltered employment with virtually no interaction with their non-disabled peers and for subminimum wages based, not on their productivity, but on their protected status as individuals with disabilities, violates federal and state anti-discrimination laws. With guidance available directly from the disabled community, the state could be in a position to improve the way it serves and integrates this group into the competitive workforce.