In a landmark decision, the New Jersey Supreme Court has held that employees who suffer from a disability do not need to show an adverse employment action in order to prevail on a failure to reasonably accommodate claim. The case is being considered by New Jersey employment lawyers as a major victory for workplace rights of disabled employees.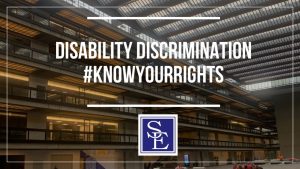 The case was brought under the New Jersey Law Against Discrimination, which is widely considered one the country's strongest state anti-discrimination laws in the country. While the Law Against Discrimination mirrors the Americans With Disabilities Act ("ADA"), it does provide for some greater protections than the federal counterpart. However, both laws share the same remedial goals to allow disabled persons to maintain gainful employment by requiring employers to provide reasonable accommodations that will allow them to perform the essential functions of the job.  Accommodations are not considered "reasonable" if they impose an undue hardship on the employers business operations, and thus not required.  To establish a prima facie claim when he or she is able to show that he or she: (1) qualifies as an individual with a disability or is perceived as having a disability; (2) is qualified to perform the essential functions of the job, or was performing those essential functions, either with or without reasonable accommodations; and (3) the employer failed to reasonably accommodate his or her disabilities. 
In the case entitled, Richter v. Oakland Board of Education, Nos. A-23 September Term 2019, 083273 (June 8, 2021), a teacher who suffered from Type-1 diabetes, sued her employer after experiencing a hypoglycemic event in her classroom during she fainted and hit her head on a science laboratory table.  As a result of the fall, Ms. Richter sustained serious and permanent life-altering injuries. Ms. Richter blames the school for the injuries because they had refused her request for an accommodation to eat lunch earlier in the day to maintain proper blood sugar levels.  According to Ms. Richter, if she was granted the requested reasonable accommodation, she would not have suffered the hypoglycemic event and would not have suffered the significant injuries.