For New Jersey employees, the short answer is yes.  On March 20, 2020, Governor Murphy signed into law new legislation that makes it unlawful for an employer to take adverse employment actions, including termination, against any employee for requesting or taking time off from work because the employee has or is likely to have the Coronavirus. The new law, A3848, comes in the wake of the Public Health Emergency and State of Emergency declared by Governor Murphy earlier this month. This new Coronavirus job protection law will provide victims of the virus with much needed protections from losing their job or being denied reinstatement.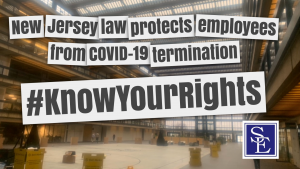 The legislation was enacted as a part of the New Jersey's continued efforts to deal with the Coronavirus pandemic and the devastating impact is having and will continue to have on individuals and their employment. In the last few weeks, the number of confirmed cases of Coronavirus in New Jersey has continued to climb and is expected to continue to rise expenditionaly. Among the attempts to slow the spread of the disease, medical professionals have advised those who have contracted or are suspected to have contracted the novel Coronavirus to quarantine themselves. Even those individuals who have not come in to contact with the disease are being urged to practice social distancing, isolating themselves in an attempt to limit potential exposure to the disease. As Governor Murphy stated in one of his recent press briefings, "Quite simply, stay at home."
Prior to the passing of this Coronavirus job protection law, it was unclear what sort of job protection a quarantined individual would have during the Coronavirus outbreak. The New Jersey Law Against Discrimination, which provides employees protection from discrimination and retaliation in the workplace, has a broad definition of "disability" that includes certain types of serious illnesses. However, some courts have interpreted the New Jersey Law Against Discrimination's broad provision concerning disabilities not to cover transient illnesses such as the flu. While the Coronavirus is concernedly much more serious than the common flu, it remains unclear whether the New Jersey Law Against Discrimination is a viable avenue to relief for affected employees.
The new Coronavirus job protection law prohibits employers from retaliating against employees who are either infected or are likely to be infected with Coronavirus. Accordingly, employees are only protected under this new law if the employee has received documentation from a New Jersey licensed health care provider stating that the employee either has or is likely to have an infectious disease. Similarly, employees are also only protected for the period of time that their health care provider recommends that the employee refrains from working. For the purposes of the new law, infection disease is defined as "a disease caused by a living organism or other pathogen, including a fungus, bacteria, parasite, protozoan, virus, or prion. An infectious disease may, or may not, be transmissible from person to person, animal to person, or insect to person." While the new law protects those which have been directly affected by the virus, it does little to protect those employees who are practicing social distancing and have an inability to tele-work from home.
Similar to the New Jersey Law Against Discrimination, the new law prohibits the employer from then "terminating or otherwise penalizing" the employee for having requested time off, as recommended by the employee's health care provider. Also similar to the New Jersey Law Against Discrimination, the employer must return employees to the same position that the were in prior to their protected leave, without reductions in "seniority, status, employment benefits, pay or other terms and conditions of employment."
While the new law mirrors the New Jersey Law Against Discrimination in many respects, it differs in terms of available remedies. Unlike the New Jersey Law Against Discrimination, where employees may recover monetary damages, including but not limited to, back pay, front pay, emotional distress damages, and reasonable attorney's fees, under the new law, employees are only entitled to equitable relief. Under the Coronavirus job protection law, employees may only seek to be reinstated to the same position they held with their employer prior to taking protected leave. Employers found to be in violation of this law will also face a fine of $2,500 for each violation.
Notably, this new law is not here to stay. Although the law includes a wide range of infectious diseases, it only prohibits retaliation during  the period of time that the Public Health Emergency and State of Emergency related to the Coronavirus remains in place, after which employees with infectious diseases will lose this protection.
The New Jersey legislature and federal government will continue to consider other legislation to combat the effects of the virus. On the horizon, the federal Families First Coronavirus Response Act, coming into effect on April 2, 2020, provides paid sick leave, and protection from retaliation, for employee's who require leave as the result of Coronavirus.
Our office will continue to monitor Coronavirus related-employment legislation. If you have questions about how these laws will impact your employment, or about how the Coronavirus pandemic has impacted other employment rights or protections, the employment lawyers at Smith Eibeler are here to help. Our offices will be closed but our employment attorneys will be working remotely and are available for telephone, email and/or video conferencing.