As domestic travel numbers rise and airports are once again filled with travelers, airlines continue to struggle to comply with accommodations for travelers with disabilities. Most recently, a viral social media video by Bri Scalesse, who is wheelchair-bound, shows her horror and distraught emotion when informed that Delta Airlines severely damaged her wheelchair during the course of her flight from Minneapolis to Newark, NJ. Unfortunately, this isn't an uncommon occurrence.  In 2018, 36,930 disability-related complaints were made to airlines. Airlines were reported to have lost or broken 10,548 wheelchairs or scooters in 2019, more than 1 out of every 100 they handle.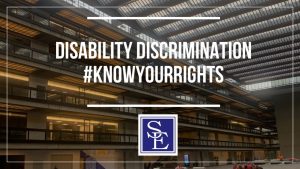 Under the Americans with Disabilities Act of 1990 ("ADA"), discrimination against people with disabilities in "public accommodations" is forbidden, including but not limited to an express list of the private entities that are considered public accommodations. The list includes all terminals, depots, or other stations used specifically for public transportation, like bus, rail, and ferry stations. Notably, the list specifically excludes aircraft stations. Individuals with disabilities are often subject to discrimination when flying, met with unnecessary barriers limiting their ability to travel comfortably. While trains, buses, and other forms of transportation are forced to comply with the Americans with Disabilities Act and create accommodations, planes have been specifically exempt from the ADA. This is contrary to New Jersey's statutory discriminatory act, the Law Against Discrimination. The recent April 2021 judicial decision from Wright-Phillips v. United Airlines made clear that public places of accommodation for disability discrimination protections under the Law Against Discrimination to include airport terminals, gates, and planes. The court ruled that "the United flight represented a place of public accommodation… [and] because the statute extends to "terminals thereof," the United gate at Newark Airport was a place of public accommodation, too. Liability under the NJLAD, however, applies to people, not places."
Under a federal scope, airplanes still fall under the Air Carrier Access Act ("ACAA"), which was passed four years prior to the ADA. The ACAA applies to all flights to, from, or within the United States. The ACAA prohibits airlines from discriminating against an otherwise qualified individual because the individual has a physical or mental impairment that substantially limits one or more major life activities. Physical impairments are defined as any condition relating to neurological, cardiovascular, or special sense organs, which affect major life activities consisting of manual tasks, physical health functions like breathing, speaking, or walking, and physical impairments.
The ACAA requires airlines to make proper accommodations for individuals with disabilities prior to boarding the aircraft, as well as during the flight and following landing. Airlines are required to provide assis­tance with deplaning and making connections. Assistive devices do not count against any limit on the number of pieces of carry-on baggage, and collapsible wheelchairs and other assistive devices have priority for in-cabin storage space over other passengers' items. Notably, the ACAA mandates that airlines may not charge for providing accommodations required by the rule. Additionally, airlines may not require advance notice that a person with a disability is traveling, unless certain preparations require preparation time, like a respirator hook up. Additional ACAA guidelines include that airlines may not limit the number of persons with disabilities on a flight and may not require a person with a disability to travel with another person, except in certain limited circumstances. The ACAA further bans discrimination by mandating that airlines may not keep anyone out of a specific seat on the basis of disability, or require anyone to sit in a particular seat on the basis of disability, except to comply with safety requirements.
The ACAA also specifically requires the training of airline employees on the proper provision of disability accommodations. They require carriers to train personnel to be knowledgeable about the boarding and deplaning procedures, and in the ability to recognize and assist in the specific assistance needs of individual passengers. Employees also must be trained in the proper and safe operation of all equipment used to accommodate disabilities. Since air travel extends to beyond the plane, airlines must train all personnel who deal with the traveling public, as appropriate to the duties of each employee, including appropriate boarding and deplaning assistance procedures that safeguard the safety and dignity of passengers, and appropriate responses to passengers with a disability.
Airlines have a clear duty to assist and accommodate disabled passengers under their care throughout the course of their experience with the company. The Department of Transportation is responsible for enforcing the ACAA. The Department of Transportation additionally implements informative programs that can be used to assist individuals with disabilities and to supplement the training and education of airline employees.
In the viral video, Scalesse said, "Today my freedom and independence was taken away… I don't know how I'm going to live my life." These are the echoed concerns of all individuals traveling with disabilities, and the concerns the ACAA exists to suppress.