Under the New Jersey Law Against Discrimination (LAD), an employee is entitled to reasonable accommodations at his or her workplace when he or she has a disability and the accommodation allows him or her to carry out basic job functions. But what if the employee requires medical leave to seek treatment for the disability? How long can the requested leave be? What if the employee's time off under the federal Family and Medical Leave Act (FMLA) has already been exhausted or is unavailable? And how can the employee prove that he or she would still be able to perform basic job functions if the accommodation is provided?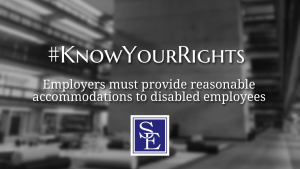 The Appellate Division of the Superior Court of New Jersey answered these questions in a recent decision in the case of Pritchett v. New Jersey, when it held that leaves of absence are available accommodations under the LAD. In upholding the reasonableness of a request for a 4month extension of a medical leave, the Court determined that even unpaid leave that exceeds FMLA entitlements can be considered a reasonable accommodation, and should be assessed on a case by case basis. Additionally, the Court found that the LAD does not require expert testimony as to the individual employee's ability to return to work. Such testimony need only attest to the fact that someone with the same disability could potentially function in the workplace.
In 2006, Shelley Pritchett was hired as a corrections officer at the Juvenile Justice Commission (JJC), and within a year, she was promoted to senior corrections officer. As a routine part of her job, Pritchett escorted inmates through and around the prison, responded to codes, and intervened to end physical fights between inmates when necessary. On June 8, 2011, Pritchett broke up a fight among several inmates and injured her neck, back and knee. Due to her injuries, Pritchett took medical leave pursuant to the FMLA until September 21, 2011, exhausting all of her available FMLA leave.