Workplace sexual harassment and assault have always been unfortunately common occurrences, and with the momentum of the #MeToo movement, these unlawful incidents are coming to light much more frequently. The repercussions for perpetrators is becoming more severe, but what about the unintended repercussions for the victims who come forward seeking justice? If an employee is sexually harassed or assaulted at work, how can he or she file a lawsuit without exposing himself or herself to further harm and humiliation? Does the victim have to choose between justice and personal security, or is anonymity an option in civil suits?  Unfortunately for victims of sexual harassment who would like to proceed with claims anonymously, the strong constitutionally protected presumption that courts are open to the public is often very high to overcome.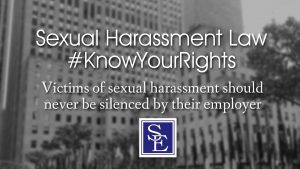 The issue of proceeding anonymously will be at issue in connection with two unnamed NFL players made recent headlines for filing a lawsuit against United Airlines on an anonymous basis.  In the lawsuit, the unnamed NFL players allege that flight attendants did not respond to their requests for help when a fellow passenger repeatedly groped their thighs and groins and verbally harassed them for wearing face masks on a flight from Los Angeles, CA to Newark, NJ in February. The lawsuit was filed in Los Angeles County Superior Court, and details the escalating verbal harassment and sexual assault that was allegedly reported to flight attendants twice, ignored both times, and then only addressed when one of the victims got out of his seat and sought help to have the woman moved away from them. The woman was finally removed from the victims' vicinity for the remainder of the flight, and the victims were given $150 vouchers by the airline. The players are seeking unspecified damages for battery, intentional infliction of emotional distress, negligent infliction of emotional distress, negligence and negligent hiring, training, supervision and retention.
Their attorney has stated that in bringing the lawsuit, the plaintiffs hope to help end this type of behavior and hold the airline accountable for keeping its passengers safe, but that they also fear the stigma that accompanies being male victims, which may be compounded by racial stereotypes about young African American males in particular. The NFL players have been allowed to proceed using John Doe pseudonyms so far, but it's unclear how long their anonymity will last.