The Appellate Division of the Superior Court of New Jersey has reversed a trial judge's the dismissal of a whistleblower lawsuit brought by a former licensed nurse of Rutgers University School of Biomedical and Health Sciences, which used to be the University of Medicine and Dentistry of New Jersey (Rutgers). This court's decision will revive the ex-nurses lawsuit and allow her claims of whistleblower retaliation under New Jersey's Conscientious Employee Protection Act to proceed to trial.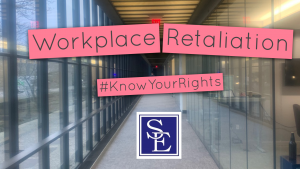 Ms. Herbe worked as a licensed nurse at Rutgers since 2009 and had recently been promoted to the position of Clinical Nurse Coordinator for the Child Health Program. Over the course of three days, when she and two coworkers along with their supervisor were assigned to audit patient charts, the supervisor admittedly abandoned that task and brought one of Ms. Herbe's coworkers along with her to help her fill out an application to Rutgers' graduate nursing program. Ms. Herbe reported her supervisor for theft of time, among other rule violations, via an anonymous employee hotline. The Business Manager for the Child Health Program investigated Ms. Herbe's anonymous allegations and found them to be credible. Both the supervisor and coworker were disciplined, including loss of leave benefit time and removal of the supervisor's application from consideration by the graduate program.
Immediately after they were disciplined, Ms. Herbe's supervisor began to harass her by making comments about her being "a mole", meeting with Ms. Herbe's team without her, asking them for "dirt on her", changing the reporting requirements that Ms. Herbe had put in place for her team, yelling at her in front of new employees and generally trying to undermine her authority. The supervisor also wrote her up for leaving work early and other infractions that Ms. Herbe claims never occurred. Ms. Herbe also began receiving poor performance evaluations for the first time in her four years working at Rutgers.