The New Jersey Division of Civil Rights (DCR), in partnership with the New Jersey Coalition Against Sexual Assault (NJCASA), has released its report and recommendations to address the systemic problem of sexual harassment in New Jersey. The report entitled "Preventing and Eliminating Sexual Harassment" is the culmination of information, expertise and testimony provided by various experts, advocates, survivors and state governmental organizations concerning sexual harassment and abuse within both the workplace and in places of public accommodation.  Following the release of the report, Governor Murphy announced that he will support several of the legislative initiatives recommended by the DCR to strengthen New Jersey sexual harassment law.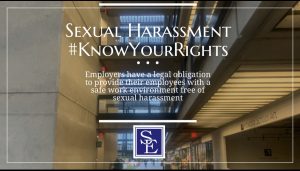 Sexual harassment at the workplace and in places of public accommodation are prohibited under the New Jersey Law Against Discrimination.   Under New Jersey state law, employers and places of public accommodation have a legal obligation to have effective anti-harassment policies in place to prevent, stop and remediate workplace sexual harassment.  The factors used by courts to determine whether an employer's anti-harassment policy is effective are: (1) whether there are formal policies prohibiting harassment in the workplace; (2) whether there are formal and informal complaint structures for employees to report violations of the policy; (3) whether the employer provides anti-harassment training to all employees, including mandatory training for supervisors and managers; (4) whether the employer has effective sensing or monitoring mechanisms to check the trustworthiness of the policies and complaint structures; and (5) whether the employer has demonstrated an unequivocal commitment from the highest levels of the employer that harassment will not be tolerated, and commitment to the policies by consistent practice.
Employers who fail to have effective anti-harassment policies in place can be held liable for the sexual harassment of employees by supervisors, co-employees, customers or other persons associated with the business.  Similarly, places of public accommodations must also take affirmative and proactive steps to assure invitees are not subjected to sexual harassment while at their place of public accommodation.  Places of public accommodation are businesses, agencies, organizations or other entities that are open to the public.  For example, schools, retail establishments, governmental buildings and governmental campaigns are viewed as places of public accommodation.  As with any employer, places of public accommodations have the same duties to have effective anti-harassment policies in place that prevent and keep persons safe from sexual harassment.
In total, over 40 survivors, advocates and experts spoke during three public hearing or through written comments submitted to the DCR.  In its report, the DCR emphasized the multiple barriers that victims of sexual harassment face when deciding whether to report the unlawful behavior to their employers, state agencies or law enforcement.  It was noted in the report that the most pervasive barrier to reporting incidents of sexual harassment is the victims fear of retaliation.  According to the report, Michael Rojas of the EEOC testified that as many as sixty percent of women have experienced workplace sexual harassment and that the vast majority of these women do not report the sexual harassment to their employer or state agency. The report cited to the 2016 Select Task Force on the Study of Harassment in the Workplace report found that "75% of employees who spoke out against workplace mistreatment face some form of retaliation."
The fear of retaliation for New Jersey state workers remains a significant impediment to eradicating the toxic work environment that far too many women employed in New Jersey state government are faced at the workplace.  On December 30, 2019, Advance Media for N.J.com published an article entitled, #MeToo was supposed to fix things.  But women in N.J. Politics Say They've Been Groped, Harassed – and Worse, which detailed horrific incidents of sexual harassment within state government.  Following the article, State Senator Majority Leader Loretta Weinberg formed an ad hoc committee to find for ways to address and ultimately eliminate the toxic culture women are forced to work in New Jersey politics.
One obvious remedial measure that the New Jersey Legislature should immediately address is to eliminate the state's Strict Confidentiality Directive that the State of New Jersey automatically imposes upon complainants and witnesses of sexual harassment who work in state government.  Under current state regulation N.J.A.C. 4A:7-3.1(j), any state employee who complains of sexual harassment to his or supervisor or HR are instructed by the EEO/AA investigator that they must keep their complaints and knowledge of the complained of sexual harassment incident strictly confidential and are expressly threatened that any breach of the confidentiality directive "could result in discipline, up to and including termination."  The regulation remains a gross violation of state workers rights and in our view and experience, remains the number reason why state employees are reluctant to file formal complaints of sexual harassment.  Our office, Smith Eibeler, has litigated this issue for years and has a pending motion with the Appellate Division seeking the Court to invalidate the State's Strict Confidentiality Directive as an unconstitutional prior restraint of their First Amendment rights and a violation of state worker's rights under the Law Against Discrimination.
Immediately following the release of the report, Governor Murphy announced that will support the following recommendations of the DCR to amend the Law Against Discrimination and strengthen sexual harassment law to protect victims:
—         requiring New Jersey employers to provide anti-harassment training to their employees;
—         extending the current statute of limitations for victims bringing claims of sexual harassment from the current (2) years to three (3) years;
—         extending the New Jersey Law Against Discrimination to cover unpaid interns and domestic workers; and
—         requiring employers of 50 or more employers to report the number of sexual harassment and discrimination.
Meanwhile, Senator Weinberg's ad hoc committee impaneled to address sexual harassment in state government has scheduled two more public listening sessions for other victims of sexual harassment in state government to bring their experiences to the public light.  Our New Jersey employment lawyers will continue to monitor any proposed recommendations and legislation that results from this committee and through the legislative process.