Workplace sexual harassment and assault have always been unfortunately common occurrences, and with the momentum of the #MeToo movement, these unlawful incidents are coming to light much more frequently. The repercussions for perpetrators is becoming more severe, but what about the unintended repercussions for the victims who come forward seeking justice? If an employee is sexually harassed or assaulted at work, how can he or she file a lawsuit without exposing himself or herself to further harm and humiliation? Does the victim have to choose between justice and personal security, or is anonymity an option in civil suits?  Unfortunately for victims of sexual harassment who would like to proceed with claims anonymously, the strong constitutionally protected presumption that courts are open to the public is often very high to overcome.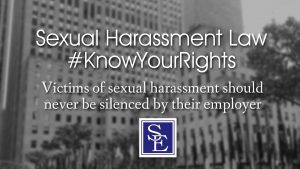 The issue of proceeding anonymously will be at issue in connection with two unnamed NFL players made recent headlines for filing a lawsuit against United Airlines on an anonymous basis.  In the lawsuit, the unnamed NFL players allege that flight attendants did not respond to their requests for help when a fellow passenger repeatedly groped their thighs and groins and verbally harassed them for wearing face masks on a flight from Los Angeles, CA to Newark, NJ in February. The lawsuit was filed in Los Angeles County Superior Court, and details the escalating verbal harassment and sexual assault that was allegedly reported to flight attendants twice, ignored both times, and then only addressed when one of the victims got out of his seat and sought help to have the woman moved away from them. The woman was finally removed from the victims' vicinity for the remainder of the flight, and the victims were given $150 vouchers by the airline. The players are seeking unspecified damages for battery, intentional infliction of emotional distress, negligent infliction of emotional distress, negligence and negligent hiring, training, supervision and retention.
Their attorney has stated that in bringing the lawsuit, the plaintiffs hope to help end this type of behavior and hold the airline accountable for keeping its passengers safe, but that they also fear the stigma that accompanies being male victims, which may be compounded by racial stereotypes about young African American males in particular. The NFL players have been allowed to proceed using John Doe pseudonyms so far, but it's unclear how long their anonymity will last.
Generally speaking, there is a presumption that adult parties to legal proceedings will identify themselves. This presumption stems from the common law right that the public has to know who is using the judicial system and the matters that are being adjudicated. This right of public access is not absolute, but it is difficult to overcome. Although victims of sexual assault are among those who have the best chances of maintaining their anonymity in court, their ability to do so is by no means definite. As a general rule, courts will allow adult litigants to use pseudonyms if their privacy considerations outweigh the presumption of openness in judicial proceedings. But how do Courts decide which considerations hold more weight?
In New Jersey, the balancing test involves many factors and can get complicated. An essential element of our judicial system is that proceedings should be conducted in public, and even our formal Rules of Civil Procedure require parties to name themselves. Courts have allowed parties to proceed using pseudonyms only in exceptional cases where a reasonable fear of severe harm to the plaintiff outweighs the strong public interest in open litigation. Keep in mind that fears of embarrassment or economic harm, no matter how well-founded, do not generally warrant the use of a pseudonym.
In making its decision, a Court will first weigh several factors that would support allowing a plaintiff to proceed anonymously. First, to what extent has the plaintiff's identity been kept confidential so far? Courts are more likely to allow anonymity where the plaintiff has strictly limited the number of people who know about the subject of the litigation. Second, what is the basis for the plaintiff's fear should he or she be identified? Courts have allowed anonymity where plaintiffs had substantial reason to fear deportation or false imprisonment, stalking and revictimization, and increased pain and shame from previous sexual assaults becoming public knowledge. Third, what is the public interest in maintaining confidentiality for the plaintiff? The public interest may favor anonymity when the plaintiff (1) belongs to a particularly vulnerable class, such as minors, the mentally ill, and victims of sexual assault; (2) the subject matter is highly personal, such as abortion, birth control, homosexuality, or sexual assault; or (3) when undesirable consequences will come from revealing the plaintiff's identity, like victims of sexual assault being less likely to come forward seeking justice.  Fourth, is the plaintiff suing over an issue that is purely legal, like the constitutionality of a statute, or over something highly fact dependent, like the circumstances surrounding assault and harassment? Fifth, is the plaintiff likely to drop the case if he or she is identified? And sixth, does the plaintiff have any ulterior motives in seeking anonymity?
Once the court has weighed those factors, then it must weigh several more factors in consideration against allowing the use of pseudonyms. First, the court must acknowledge that the publicness of proceedings is essential to our judicial system. Second, the court must ask whether the public has a particularly strong interest in knowing the plaintiff's identity in a matter. For instance, where the litigant is a public figure, this factor would weigh against allowing anonymity. Third, the court must ask whether the party opposing anonymity has any ulterior motives in doing so.
Even this extensive list of factors is not exhaustive. In cases where a defendant must combat accusations, fundamental fairness generally requires plaintiffs to make their accusations publicly so that the accused is given adequate opportunity and information to defend themselves. When a plaintiff involves the media, that decision can also hurt his or her chances of being able to proceed anonymously. A plaintiff who willingly discloses information to the media about a case, even anonymous statements, might be seen as making charges publicly, while attempting to hide behind a cloak of anonymity.
It is worth noting, however, that New Jersey courts have allowed victims of sexual harassment and assault to proceed using pseudonyms, recognizing them as members of a vulnerable group, and giving credence to the humiliation, emotional pain, and the harm to reputation and career that they are likely to suffer if forced to name themselves. Perhaps the recent remarks of a sports radio host ridiculing the NFL players who were assaulted on their United Airlines flight can serve as an example and reminder of one the many reasons why victims of sexual harassment and assault have been afforded anonymity in some cases. The radio host mocked the players, wondering how young, strong athletes were unable to protect themselves against the advances of a woman and implying that if their identities are revealed, they should expect further ridicule within the NFL.
While it embarrassment and humiliation will undoubtedly result for these two NFL players should they be forced to reveal their identities in the lawsuit, they will likely have to show more in order to continue to proceed in their lawsuit anonymously.  It is likely that the attorneys for United Airlines will file a motion with the Court to require them to identify themselves in the public lawsuit.  Our employment attorneys will keep a close eye on this case and other relevant issues in sexual harassment litigation and update further development in this case.