Many of us have heard of employee whistleblowers who go public with their employer's egregious wrongdoings and suffer job loss or other retaliation for doing so. Both the federal government and the State of New Jersey offer protections to these conscientious employees.  For example, a federal law called the Whistleblower Protection Act of 1989 protects employees who disclose evidence of illegal or improper governmental activities. In New Jersey, we have enacted the Conscientious Employee Protection Act, which is viewed as one of the furthest reaching whistleblower laws in the country. Whistleblower laws such as these were enacted to assure that employees have protections when they do the right thing and oppose unlawful activity of their employer.  We, as a society, belief that employers and the government must play within the rules to protect people from being harmed from dangerous situations that can be caused by unlawful conduct.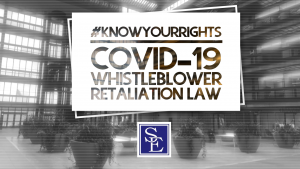 There is perhaps no better example of the importance that whistleblowers can play in stopping governmental behavior that can cause harm to people than the allegations that Dr. Rick Bright has made against the government concerning its COVID-19 response. Dr. Bright was recently ousted from his prominent position as Director of the Biomedical Advanced Research and Development Authority (BARDA) for what he alleges was in retaliation for disclosing certain violations of law, gross mismanagement and waste of funds, abuse of authority and substantial and specific danger to public health and safety of the government in response to the Covid-19 pandemic.
Dr. Rick Bright recently began making headlines when he went public with his Complaint alleging Whistleblower Retaliation filed with the United States Office of Special Counsel. In the lengthy filing, Dr. Bright alleges that he was fired from his position within the Department of Health and Human Services (HHS) after he refused to spend money on unproven and potentially dangerous drugs that the White House was touting as promising treatments for Covid-19, and he resisted pressure to put in place a national program geared toward expanding public access to those drugs.