An employee may have a claim for whistle-blower retaliation under New Jersey state law if their employer takes adverse employment action against him or her for complaining directly to the employer or or reporting violations of New Jersey Executive Order 107 to a governmental agency.  Executive Order 107 was signed by Governor Murphy on March 21, 2020 in furtherance of concerted efforts to stop the spread of COVID-19.  Since its passing, there have been many news stories of New Jersey employees reporting that employers are conducting business as usual and in violation of their legal obligations under Executive Order 107. Employers who retaliate against their employees for "blowing-the-whistle" on violations of Executive Order 107 may also find themselves subjected to liability under the New Jersey Conscientious Employee Protection Act.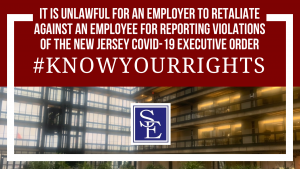 The New Jersey Conscientious Employee Protection Act is considered one of the furthest reaching anti-whistleblower statutes in the country.  New Jersey's whistle-blower protection law makes it unlawful for an employer to take adverse employment action (including, but not limited, to termination) against an employee for engaging in protected activity that is covered by the statute. There are many forms of protected activity recognized under the New Jersey Conscientious Employee Protection Act, N.J.S.A. 34-19-3.  For example, an employee who discloses or threatens to disclose to a supervisor or public body practices or acts of the employer that he or she reasonably believes to be in violation of a law, rule or regulation promulgated pursuant to the law is engaging in protected activity under the statute.  Protected activity can also include objecting to or refusing to participate in any activity, policy or practice that the employee reasonably believes is "incompatible with a clear mandate of public policy concerning the public health, safety or welfare or protection of the environment." N.J.S.A. 34-19-3(c)(3).
The clear stated purpose of Executive Order 107 is to limit the spread and mitigate the impact of COVID-19.  In order accomplish the objections of the executive order, Governor Murphy ordered specific directives upon employers concerning how they must conduct their business operations during the coronavirus pandemic.  Among other things, Executive Order 107 directs the temporary closure of non-essential retail businesses.  It also mandates non-retail businesses to accommodate their workforce for telework or work-from-home arrangements. The term "telework" is defined in the order as "the practice of working from home or alternative locations closer to home through the use of technology that equips the individual to access necessary materials."  The order further states that in situations in which employees cannot perform their job functions via telework or work-from home arrangements, the employer should make best efforts to reduce staff on-site to the minimal number of workers necessary to ensure the continuation of essential business operations.