The Appellate Division of the Superior Court of New Jersey has reversed a trial judge's the dismissal of a whistleblower lawsuit brought by a former licensed nurse of Rutgers University School of Biomedical and Health Sciences, which used to be the University of Medicine and Dentistry of New Jersey (Rutgers). This court's decision will revive the ex-nurses lawsuit and allow her claims of whistleblower retaliation under New Jersey's Conscientious Employee Protection Act to proceed to trial.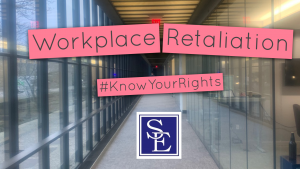 Ms. Herbe worked as a licensed nurse at Rutgers since 2009 and had recently been promoted to the position of Clinical Nurse Coordinator for the Child Health Program. Over the course of three days, when she and two coworkers along with their supervisor were assigned to audit patient charts, the supervisor admittedly abandoned that task and brought one of Ms. Herbe's coworkers along with her to help her fill out an application to Rutgers' graduate nursing program. Ms. Herbe reported her supervisor for theft of time, among other rule violations, via an anonymous employee hotline. The Business Manager for the Child Health Program investigated Ms. Herbe's anonymous allegations and found them to be credible. Both the supervisor and coworker were disciplined, including loss of leave benefit time and removal of the supervisor's application from consideration by the graduate program.
Immediately after they were disciplined, Ms. Herbe's supervisor began to harass her by making comments about her being "a mole", meeting with Ms. Herbe's team without her, asking them for "dirt on her", changing the reporting requirements that Ms. Herbe had put in place for her team, yelling at her in front of new employees and generally trying to undermine her authority. The supervisor also wrote her up for leaving work early and other infractions that Ms. Herbe claims never occurred. Ms. Herbe also began receiving poor performance evaluations for the first time in her four years working at Rutgers.
Ms. Herbe was so affected by the hostile treatment at work that she started seeing a mental health professional. She was diagnosed with Post Traumatic Stress Disorder and Major Depression stemming from her work environment, and her doctor advised her to stop working. Over the course of the next 14 months, Ms. Herbe took 3 leaves of absence. When she could not provide a return to work date for the third leave, she was fired.
Ms. Herbe filed a single count lawsuit against Rutgers arising under the New Jersey's Conscientious Employee Protection, claiming that she was fired in retaliation for blowing the whistle on her supervisor for using work hours to complete her graduate school application.  The trial court granted Rutgers' motion for summary judgment, finding that Ms. Herbe failed to show that (1) she reasonably believed her supervisor had violated "a law, rule, or regulation promulgated pursuant to law, or a clear mandate of public policy"; (2) the misconduct was anything more than a "minor infraction"; (3) her poor performance evaluations were the cause of any adverse employment action against her; and (4) she had suffered recoverable damages. Specifically, the trial judge found that Ms. Herbe's termination was not causally related to her whistleblowing, because it was solely a result of her not being able to return to work from her extended leaves of absence. Ms. Herbe argued that she required the leaves of absence as a result of the hostile work environment that she suffered in retaliation for her whistleblowing. Essentially, Ms. Herbe argued that she was driven out of her job in retaliation for outing her supervisor's misconduct.
Without reaching a determination on the merits of Ms. Herbe's case, the Appellate Division found that the trial court should not have granted summary judgment to Rutgers on the record before it. Ms. Herbe had presented enough evidence in support of her claims to warrant a trial.
The New Jersey Conscientious Employee Protection Act makes it "unlawful for an employer to retaliate against an employee who 'report[s] illegal or unethical workplace activities.'" In fact, it is designed to "protect and encourage employees to report illegal or unethical workplace activities and to discourage public and private sector employees from engaging in such conduct." Generally, courts interpret CEPA's protections broadly to further its remedial civil rights purpose. Despite this generally broad interpretation, a Ms. Herbe asserting claims under CEPA must have had a reasonable belief that the activity he or she was reporting was in fact in violation of some rule, law or policy. CEPA is not intended to address minor infractions or annoyances or strictly personal offenses that occur at work.
Therefore, a Ms. Herbe asserting a CEPA claim must establish that: (1) he or she reasonably believed that his or her employer's conduct was violating either a law, rule or regulation promulgated pursuant to law, or a clear mandate of public policy; (2) he or she performed a "whistleblowing" activity described in N.J.S.A. 34:19-3(c); (3) an adverse employment action was taken against him or her; and (4) a causal connection exists between the whistleblowing activity and the adverse employment action. If the Ms. Herbe meets this burden, then the burden shifts to the defendant employer to demonstrate a legitimate reason for the adverse employment action taken against the Ms. Herbe. If the defendant provides a legitimate reason, the burden falls back on the Ms. Herbe to show that the reason proffered by the employer is pretextual and not credible.
In Ms. Herbe's case, the trial court found that she failed to meet three of the four prongs she needed to satisfy her initial burden – all except the second prong, that she performed a "whistleblowing activity". The Appellate Division disagreed with both the trial court's decision to play factfinder as well as its conclusions regarding Ms. Herbe's ability to meet her initial burden.
Regarding the first prong, the misconduct reported does not need to be illegal, and the reporting employee is not required to cite a specific law or statute in support of her belief. What is required is for the Ms. Herbe to reasonably believe the misconduct to be fraudulent. The New Jersey Supreme Court recently ruled on this issue in the matter, Chiofalo v. State. Specifically, the Supreme Court stated that although it is "better practice" to identify the law or policy being flouted, whistleblowers are not expected "to be lawyers on the spot". While a Ms. Herbe will eventually have to provide a basis for her belief that the activity was fraudulent, she need not cite to a specific written law or statute when reporting the activity. Additionally, minor infractions generally do not support a finding that the whistleblowing employee had a reasonable belief that fraud occurred. Violations like taking extended lunch breaks, making personal phone calls or other trivial matters are not the type of unlawful conduct contemplated by the Conscientious Employee Protection. Here, however, the alleged misconduct was not trivial as a matter of law, and Herbe had established a reasonable belief in the fraudulence of her supervisor's conduct.
The Appellate Division also found that Herbe satisfied the third and fourth New Jersey's Conscientious Employee Protection prongs by demonstrating that "an adverse employment action" resulted from her whistleblowing. Under N.J.S.A. 34:19-2(e), "retaliatory action" is defined as "the discharge, suspension or demotion of any employee, or other adverse employment action taken against an employee in the terms and conditions of employment." An adverse employment action is not limited to being fired. It can also include negative performance reviews, unwarranted suspensions or other unwarranted discipline, or otherwise engaging in a pattern of retaliatory behavior designed to push the whistleblower out of her position or out of the workplace entirely. Herbe did not need to show a "direct causal link" between the whistleblowing activity and the retaliation. By showing that prior to her whistleblowing, she was treated as a valued employee but immediately afterwards began to suffer harassment and unwarranted discipline, Herbe established a causal connection sufficient to satisfy her initial burden.
One of the most important takeaways from Herbe's case is the Appellate Division's analysis of the third and fourth prongs of her New Jersey's Conscientious Employee Protection claim. Specifically, what the Rutgers might have argued is a straightforward case of an employee abandoning her position or requiring unreasonable accommodations for her mental health diagnoses, was still properly considered under the protections of CEPA. Retaliatory discharge need not occur immediately upon an employer discovering whistleblowing activity or in direct response to an employee speaking out against workplace misconduct. Smaller, repeated retaliatory actions that occur over a period of time and that are intended to punish the whistleblower are sufficient to establish the causal connection necessary to advance a New Jersey's Conscientious Employee Protection claim.
Herbe also established that she suffered economic damages as a result of Rutgers' conduct. "If the employer's retaliatory action is the proximate cause of the employee's mental unfitness for duty, then the New Jersey's Conscientious Employee Protection grants the employee '[a]ll remedies available in common law tort actions . . . .'" N.J.S.A. 34:19-5. This includes lost wages, benefits and other monetary damages. Here, Ms. Herbe presented sufficient evidence that defendant's retaliatory actions proximately caused her to go on the extended leaves recommended by her doctor and caused her compensable emotional distress. Although Rutgers strongly disputed this evidence, that dispute should have been resolved at trial rather than on a summary judgment motion.
Cases involving retaliation can be complicated, involving insidious behavior that although subtle or gradual is no less harmful to the whistleblowing employee. These matters often involve many questions of fact that require documentary and testamentary evidence to prove. If you are concerned that you may be the target of retaliation at work for engaging in protected whistleblowing activity, you would benefit from consulting with an experienced employment law attorney as soon as possible.