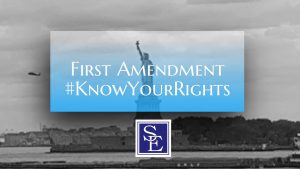 The Third Circuit Court of Appeals has ruled in favor of a public employee who alleges she was terminated by her public employer for inquiring into a complaint that she had been illegally recorded during a conversation with a union leader.  In reversing the district court's decision, the court reinforced the separation of a public employee's speech in their capacity as a private citizen in comparison to what they say in their capacity as a public employee.  This case is a reminder that public employees do not waive their First Amendment rights by accepting public employment and have job protections when they engage in protected activity under the United States Constitution.  
In this case entitled Javitz v. County of Lucerne, the plaintiff, Donna Javitz's was employed as the director of human resources for Lucerne County.  During her employment, Ms. Javitz's alleges that she made a report to the district attorney that she had allegedly been illegally recorded when she met a union leader in her official capacity. The county manager told Javitz and the district attorney to drop the matter, but Javitz followed up with questions on the status of the investigation regarding the recording. Suddenly, her relationship with her employer became rocky and Javitz was abruptly terminated. Javitz claimed that her termination was in retaliation for reporting the alleged illegal recording to the district attorney. 
The county employer alleged that Javitz had been working within her capacity as a public employee when she was inquiring about the status of the investigation and therefore no First Amendment violation existed. The district court agreed and cited to the Lucerne County Code of Ethics as the source by which it found her conduct in reporting the illegal activity to be within her official capacity as a county employee. Because the action was within her duties as an employee, the District Court concluded that the report did not qualify as speech protected by the First Amendment.