In a demonstration of support for and solidarity with New Jersey employees that have experienced sexual harassment and sexual assault in the workplace, Governor Murphy signed Senate Bill 2986, nicknamed the "Panic Button Bill," on June 11th, 2019. This bill was introduced to the New Jersey Senate in September of 2018 and, with Governor Murphy's signature, will take effect in January of 2020. Governor Murphy claims that, with its passage, New Jersey becomes the first state nationwide to enact legislation of its kind.  The  passing of the legislation is another victory for employees, and particularly victims of sexual harassment in the #MeToo movement.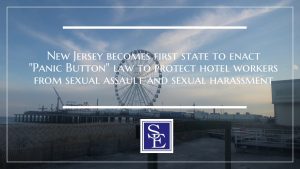 In an effort to recognize the prevalence of sexual misconduct in specific areas of employment, the New Jersey Senate has targeted the hospitality industry with regulations intended to protect hotel employees from facing such unlawful behavior. The bill states, "[d]ue to the unique nature of hotel work, hotel employees are particularly vulnerable when working alone in hotel guest rooms…this solitary work places them at risk of assault, including sexual assault, and sexual harassment." This statement was proven true by a horrific case of sexual assault that occurred in 2018, when a 51-year-old house keeper at Billy's Casino in Atlantic City was forced into a hotel room and sexually assaulted by a guest. This criminal act sparked a widespread demand for safer working conditions for hotel employees.
New Jersey employees are protected from sexual harassment and sexual misconduct in the workplace by the New Jersey Law Against Discrimination (LAD). The New Jersey Law Against Discrimination prohibits discrimination on the basis of sex, which includes behavior such as inappropriate touching, unwelcome sexual advances, and retaliation for opposing sexual harassment conduct or participating in an investigation into such conduct. These are just some of the many different forms sexual harassment and assault can take. The New Jersey Law Against Discrimination requires that employers take the utmost caution in assuring that their employees are not vulnerable to experiencing this type of unlawful behavior. This is the basis for the Panic Button Bill that Governor Murphy signed into law.