The #MeToo movement has shined much-needed light on the prevalence of sexual harassment within political campaign organizations.  Operating a political campaign, a transient organization — comprised of the candidate, and his or her workers, applicants, consultants and invitees – presents unique challenges. These challenges, however, do not shield campaigns the legal obligation to keep women safe from sexual harassment and misconduct within the campaign environment.  Women who are sexually harassed while working in campaigns are increasingly speaking, including filing lawsuits against the campaign entities when they fall victim to sexual harassment and assault.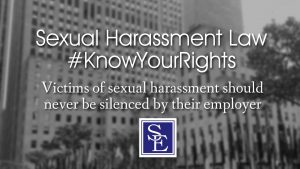 Most recently, it was reported that a Chicago-based political staffer, Alaina Hampton, settled a sexual harassment lawsuit against a campaign, several political entities, and the campaign supervisor who sexually harassed her.  Ms. Hampton, a former political staffer and campaign manager, filed the lawsuit in March 2018.  She first began working on Chicago-based political campaigns in 2012 after graduating college with a degree in political science.  In or about July 2016, Ms. Hampton began working on three separate democratic campaigns for the Democratic Party of Illinois for which she was paid a salary.  Kevin Quinn, Ms. Hampton's supervisor, was a well-known, high-ranking political operative for Speaker Madigan and the Madigan Defendants. Mr. Quinn directed Ms. Hampton's work on any one of the three campaigns to which she was assigned.
Shortly after Ms. Hampton began working with Mr. Quinn, she alleges he began to subject her to severe and pervasive sexual harassment.  According to Ms. Hampton's complaint, Mr. Quinn regularly pursued Ms. Hampton for a romantic and sexual relationship. Mr. Quinn's purported sexually harassing behavior included repeated late-night text messages asking Ms. Hampton out, telling her she was "smoking hot," and insisting she go out with him. Ms. Hampton asserts that she repeatedly told Mr. Quinn that she did not want to become involved with him and wanted to keep their relationship professional.  Ms. Hampton alleges that despite her repeated rejections, Mr. Quinn refused to take "no" for an answer.
In February 2017, when Mr. Quinn continued to pursue Ms. Hampton despite her rejections, she complained to Mr. Quinn's supervisor and presented sexually harassing text messages as evidence in support of her complaint. According to Ms. Hampton, the defendants took no corrective or remedial action.  She alleges she was instructed to block Mr. Quinn's number and would no longer have to report to him. Shortly thereafter, in April 2017, Ms. Hampton remained concerned that she would again be forced to work with Mr. Quinn and ultimately quit her job claiming constructive discharge.
After leaving her employment, Ms. Hampton reported her sexual harassment complaints directly to Illinois House Speaker Michael J. Madigan, who also served as chairman of the Democratic Party of Illinois. Ms. Hampton hoped that once he had heard her complaints directly, Speaker Madigan and the Illinois Democratic Party would take appropriate action, and she would be able to return to work.
Counsel for Speaker Madigan contacted Ms. Hampton to schedule a meeting. During the meeting, Speaker Madigan's attorney informed Ms. Hampton that she could not have suffered any sexual harassment or a hostile work environment for the simple fact that she was not an employee of the Illinois Democratic Party. Despite this reaction to her complaints, Ms. Hampton sought reemployment with Speaker Madigan and the Democratic Party of Illinois, to no avail.
Ms. Hampton has asserted that, as a result of her complaints of unlawful sexual harassment and sexually hostile work environment, the political campaign/committees retaliated by refusing to hire her to work as a political consultant for the 2018 campaign cycle. Ms. Hampton filed a lawsuit seeking damages in connection with the refusal to hire her to perform political work.
Like most campaigns facing claims of sexual harassment, the Madigan Defendants attempted to argue that Ms. Hampton was not an employee and therefore it owed her no duty in assuring a safe workplace.  As an employer and place of public accommodation, this argument pushed by many campaign entities faced with sexual harassment has become especially tiresome in the #MeToo movement.
A year and a half after Ms. Hampton filed suit, the matter settled publicly for the sum of $275,000. The parties' settlement agreement does not include any confidentiality provision that could bar the parties from making public comments about the case.
As a result of Ms. Hampton's claims, Speaker Madigan formed a task force to address sexual harassment and sexual assault. The task force resulted in the passage of legislation strengthening Illinois' handling of sexual harassment and misconduct claims. The full impact of reform of the political arena as a result of women like Ms. Hampton coming forward with complaints of sexual harassment has yet to be seen. Thus far, campaigns across the country are beginning to engage human resources consultants to assist with drafting policies and training to prevent and address harassment in the campaign environment. It is the pervasiveness of sexual harassment in politics, such as that which Ms. Hampton experienced, that paved the way for the creation of Bright Compass, a human resources consulting firm, entrusted with helping end workplace harassment on progressive campaigns and in the political arena.  Its founder, Dallas Thompson, was responsible for hiring and training more than 400 staff for Hillary Clinton's 2016 presidential campaign. Bright Compass was launched in March 2019 with the mission to ensure that progressive campaigns take every possible step to eradicate discrimination and harassment in all forms on political campaigns ahead of the 2020 election cycle.
Bright Compass' owner, Dallas Thompson, stated "there isn't a lot of infrastructure in the campaign world for dealing with HR issues from cycle to cycle, and, after 2016 and the emergence of the #MeToo movement, I really wanted to bring HR expertise to progressive campaigns and workplaces."
Alaina Hampton should be commended for having the courage to bring her sexual harassment experiences in the public light and holding those responsible for causing and allowing an environment for it to happen.  Political campaigns, like any other entity, have a legal obligation to assure that their work and campaign environments are safe for their employees, consultants, invitees and other women.   It is more critical than ever that all political campaigns and organizations have policies, trainings, and reporting structures in place to prevent and address sexual harassment on the campaign trail.