SUPREME COURT UNANIMOUSLY RULES THAT SUPERVISOR'S USAGE OF RACIAL SLURS AGAINST EMPLOYEE ON ONLY TWO OCCASIONS ARE ENOUGH TO ESTABLISH SEVERITY IN A HOSTILE WORK ENVIRONMENT CASE
In an unanimous opinion, the New Jersey Supreme Court has held that the use of offensive racist slurs on two occasions could meet the severe and pervasive standard required to establish a claim for hostile work environment under the New Jersey Law Against Discrimination. The is being viewed by New Jersey employment lawyers as a victory to employee rights and their right to a work environment free of discrimination.  In denying summary judgment on behalf of the employer, the race workplace discrimination case will now proceed to trial with the ultimate outcome to be decided by a jury.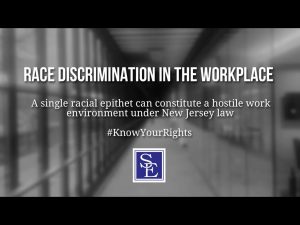 In the case, Rios, Jr. v. Meda Pharmaceutical, Inc., the employee claims that on two separate occasions, his direct supervisor called him a "sp*c" and this conduct amounted to a hostile work environment. After he reported both instances to Human Resources (HR), the supervisor placed him on a performance improvement plan and he was eventually fired.  At the end of discovery, the employer filed a motion for summary judgment to dismiss the case arguing that only two incidents were not pervasive or severe to constitute an actionable claim for hostile work environment.  The trial court granted the motion and dismissed the lawsuit.