SUPREME COURT UNANIMOUSLY RULES THAT SUPERVISOR'S USAGE OF RACIAL SLURS AGAINST EMPLOYEE ON ONLY TWO OCCASIONS ARE ENOUGH TO ESTABLISH SEVERITY IN A HOSTILE WORK ENVIRONMENT CASE
In an unanimous opinion, the New Jersey Supreme Court has held that the use of offensive racist slurs on two occasions could meet the severe and pervasive standard required to establish a claim for hostile work environment under the New Jersey Law Against Discrimination. The is being viewed by New Jersey employment lawyers as a victory to employee rights and their right to a work environment free of discrimination.  In denying summary judgment on behalf of the employer, the race workplace discrimination case will now proceed to trial with the ultimate outcome to be decided by a jury.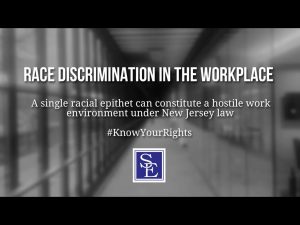 In the case, Rios, Jr. v. Meda Pharmaceutical, Inc., the employee claims that on two separate occasions, his direct supervisor called him a "sp*c" and this conduct amounted to a hostile work environment. After he reported both instances to Human Resources (HR), the supervisor placed him on a performance improvement plan and he was eventually fired.  At the end of discovery, the employer filed a motion for summary judgment to dismiss the case arguing that only two incidents were not pervasive or severe to constitute an actionable claim for hostile work environment.  The trial court granted the motion and dismissed the lawsuit. 
In reversing the lower courts' granting of summary judgment to the employer, New Jersey's highest court held that it is up to the jury to consider corroborating evidence when finding whether demeaning and contemptuous slurs were sufficiently severe or pervasive to create a hostile work environment. This decision is in line with previous decisions holding that there is no minimum number of instances of harassment required in order to establish a claim. The court both reaffirmed and augmented the standard set in Taylor v. Metzger, 152 N.J. 490 (1998), where a single racial slur directed to an employee by a supervisor set forth the claim for a hostile work environment. Following the same analytical framework, the Rios Court found that Taylor "did not establish a floor or set minimal factual requirements for a hostile work environment claim." 
Rios' case was brought under the New Jersey Law Against Discrimination, which makes it unlawful for employers to discriminate in their employment practices on the basis of race, religious creed, color, national origin, physical or mental disability, age, nationality, ancestry, marital status, affectional or sexual orientation, sex, or liability for military service. Under the Law Against Discrimination, for the plaintiff in this matter to establish a prima facie case of hostile work environment, he must show that the complained-of conduct (1) would not have occurred but for his race or ethnicity; and it was (2) severe or pervasive enough to make a (3) reasonable Hispanic person believe that (4) the conditions of employment were altered and the working environment was hostile or abusive.
After almost a year of employment with Meda Pharmaceuticals, Armando Rios, Jr., a Hispanic employee, was placed on probation and a performance improvement plan by his direct supervisor, Tina Cheng-Avery, following his HR complaints about her racially insensitive comments. Media Pharmaceuticals and Cheng-Avery, as named defendants, moved for summary judgment alleging that no rational factfinder could conclude that Cheng-Avery's alleged comments were sufficiently severe or pervasive to create a hostile work environment. The district court and court of appeals both found in the defendants' favor and granted them summary judgment. Rios argued that summary judgment was inappropriate because the use of racial slurs directed specifically at him, even if not copiously, were sufficiently severe or pervasive to support a claim for hostile work environment. 
The New Jersey Supreme Court concluded that Rios should therefore be allowed to present his claim to a jury. For a number of considerations, the court found that a rational factfinder could have reasonably found from Rios's evidence that the directed alleged slurs were sufficiently severe to create a hostile work environment. First, that the two comments Cheng-Avery allegedly made were highly offensive and demeaning slurs from the perspective of an objectively reasonable Hispanic person. Racial slurs have no place in the workplace and their insulting nature is widely recognized. Secondly, Cheng-Avery's position as a supervisor is highly troubling. A supervisor often has direct control over the employee's future with the organization and carries the responsibility to prevent racial harassment in the workplace. Lastly, Rios reported the alleged slurs in a way consistent with public policy, yet Meda Pharmaceuticals failed to take remedial action. The company had an opportunity to remedy the situation and failed to do so.
The Rios decision leads New Jersey further toward the eradication of discrimination for which the Law Against Discrimination was designed. No amount of discriminatory conduct is acceptable in the workplace, and by once again finding that there is no minimum amount of harassment that employees must withstand, the Court has emphasized the vast protections of the law.