A New York State trial court recently ruled that the arbitration clause in an employment contract requiring an employee to submit to binding arbitration for claims against her employer, including sexual harassment claims, was unenforceable following amendments to New York State's Human Rights Law in 2018. The decision creates a split in authority between New York State and federal courts, following a 2019 decision in the Southern District of New York upholding the enforceability of arbitration agreements in employment contracts. That court found that the Federal Arbitration Act (FAA) preempts the New York statutory prohibition. These contrasting decisions may create uncertainty around the viability of employee/employer arbitration agreements in New York as they relate to harassment and discrimination claims.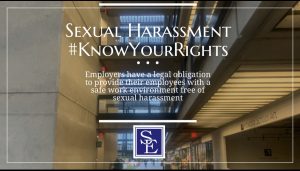 This confusion exists in New Jersey as well. On March 18, 2019, Governor Murphy signed legislation that, among other things, prohibits mandatory arbitration of discrimination, retaliation or harassment claims as against public policy. While other jurisdictions, including New York, have enacted similar legislation pertaining to sexual harassment claims, the New Jersey law covers all claims arising under the New Jersey Law Against Discrimination (NJLAD). The New Jersey law also states that confidential settlement agreements "shall be deemed against public policy and unenforceable". It is important to note that the prohibition of arbitration does not apply to collective bargaining agreements. It remains unclear whether New Jersey courts will find that this state law is preempted by the FAA, but nonetheless, employers run the risk of violating the new law if arbitration provisions are included in employment contracts going forward. The new law is not retroactive. It applies "to all contracts and agreements entered into, renewed, modified or amended on or after" March 18, 2019.
Since the signing of New Jersey's law prohibiting the inclusion of arbitration agreements in employment contracts, New Jersey courts, both state and federal, have upheld the validity of arbitration clauses that were signed before enactment of the law.
A February 2020 decision by the Appellate Division of the Superior Court of New Jersey (a state court) reversed the trial court's denial of a defendant employer's motion to compel arbitration of an employee's claims arising under New Jersey Law Against Discrimination. The plaintiff employee in Stowell v. Cantor Fitzgerald & Co.claimed that she had been terminated from her employment in retaliation for filing an internal sexual harassment complaint against her supervisor. The Stowell plaintiff was forced to arbitrate her claims.
Similarly, in June 2020, in Montgomery v. Bristol-Myers Squibb Co., the United States Court for the District of New Jersey (a federal court) compelled arbitration in a case alleging sexual harassment. After a lengthy consideration of whether the arbitration agreement contained in the employment contract was unconscionable, the court found that it was not. Specifically, because the employee was unable to demonstrate that the terms of the arbitration agreement unreasonably favored her employer, the arbitration agreement was enforceable.The Montgomery Court also found first, that the arbitration agreement did not preclude the plaintiff employee from obtaining any remedies she would otherwise be entitled to in court, and second, that the language in the arbitration agreement clearly specified that it covered statutory claims. Because the arbitration agreement left no ambiguity that the employee had waived her right to bring statutory claims in court, the district court compelled arbitration. Neither of the arbitration clauses at issue in the Stowellor Montgomerycases were signed after Governor Murphy signed New Jersey's law prohibiting these types of agreements. However, it is important to note the heavy burden that may remain on employees to establish their right to bring claims of harassment and discrimination in court, especially where employment contracts were signed prior to March 18, 2019.
Looking to the national stage, the United States Congress has been evaluating the Forced Arbitration Injustice Repeal (FAIR) Act, passed by the House of Representatives and received in the Senate in September 2019. The FAIR Act, introduced by Rep. Hank Johnson (D-GA) and Sen. Richard Blumenthal (D-CT), would ban businesses from including mandatory arbitration clauses in contracts with both employees and consumers. Unlike the New Jersey law, it would also invalidate agreements that have already been signed, but only for disputes that arise after the law goes into effect. Democratic lawmakers had introduced the same bill last year, but they did not get the necessary support from Republicans to pass it. If the bill passes this time, the law will immediately restore to millions of employees, many of whom may not even realize they signed arbitration agreements, access to the courts.
What is the problem with arbitrating harassment, discrimination and retaliation claims?
The rise of mandatory arbitration has made it nearly impossible for employees to publicly seek justice against employers and aggressors despite the public interest in righting these wrongs. Arbitration tends to be a secretive system that stifles employees' ability to shed light on systemic workplace issues. Employees are coming forward, often for the first time, with complaints of widespread sexual harassment at work, only to discover that they've been shut out of the court system because they signed an arbitration agreement. While arbitration has been effective at saving all parties time and money as compared to litigation, most claims are resolved behind closed doors. The non-transparent nature of arbitration resolutions prevents the public from engaging in a meaningful way to bring about culture and workplace changes to end harassment, discrimination and retaliation.
As the law currently stands on the issue of mandatory arbitration agreements governing employee claims of harassment, discrimination and retaliation, employees and employers alike face uncertainty as to whether these agreements will be enforceable going forward. Our experienced employment law attorneys continue to work to prevent employees from being silenced by these contract provisions that run counter to both New Jersey law and public policy.