Disability discrimination remains a persistent problem in the workplace. But it does not happen only at work. Last month, a Norwood, New Jersey teenager was cut from her school's volleyball team because she has epilepsy. After her father reported what he believed to be discriminatory conduct and demanded that the school adhere to her rights under the New Jersey Law Against Discrimination, she was permitted back on the team. Once she was playing again, however, she was subjected to bullying and harassment from her teammates that lasted the entire school year according to the Complaint filed by her father on October 1, 2020.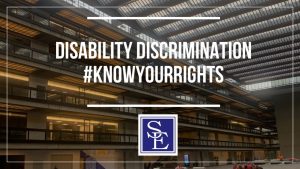 Norwood is a small K-8 district where the minor plaintiff (referred to by her initials, EP) received special education and related services due to several disabilities including social anxiety and epilepsy. In addition to being a special education student at Norwood public school, EP was also a member of the volleyball team. Along with her teammates, she tried out for and made the team in her 6th and 7th grade years. When she tried out in her 8thgrade year, she was shocked when she found out that she was the only 8thgrade student who did not make it. When her father addressed his daughter's removal from the volleyball team with school administrators, EP was allowed back on the team, but was subject to bullying by her teammates for the rest of the school year.
The family filed a Complaint in the New Jersey Superior Court for Bergen County against the Norwood Board of Education and Vito DeLaura, the principal of Norwood public school, alleging violations of the New Jersey Law Against Discrimination and Anti-Bullying Bill of Rights Act. In the lawsuit, the family alleges that Mr. DeLaura, who they claim has a history of singling out and humiliating EP due to her disabilities, instructed the volleyball coach not to let EP play. Specifically, the lawsuit claims the volleyball coach cut EP from the team because her epilepsy required the school to hire a nurse who would be present at all games and practices, creating a significant financial burden on the school district. The family claims that the subsequent bullying was due to EP's disabilities and was not addressed properly by the school.