Disability discrimination remains a persistent problem in the workplace. But it does not happen only at work. Last month, a Norwood, New Jersey teenager was cut from her school's volleyball team because she has epilepsy. After her father reported what he believed to be discriminatory conduct and demanded that the school adhere to her rights under the New Jersey Law Against Discrimination, she was permitted back on the team. Once she was playing again, however, she was subjected to bullying and harassment from her teammates that lasted the entire school year according to the Complaint filed by her father on October 1, 2020.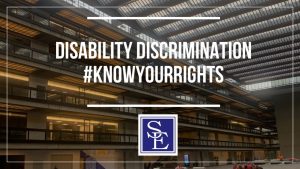 Norwood is a small K-8 district where the minor plaintiff (referred to by her initials, EP) received special education and related services due to several disabilities including social anxiety and epilepsy. In addition to being a special education student at Norwood public school, EP was also a member of the volleyball team. Along with her teammates, she tried out for and made the team in her 6th and 7th grade years. When she tried out in her 8thgrade year, she was shocked when she found out that she was the only 8thgrade student who did not make it. When her father addressed his daughter's removal from the volleyball team with school administrators, EP was allowed back on the team, but was subject to bullying by her teammates for the rest of the school year.
The family filed a Complaint in the New Jersey Superior Court for Bergen County against the Norwood Board of Education and Vito DeLaura, the principal of Norwood public school, alleging violations of the New Jersey Law Against Discrimination and Anti-Bullying Bill of Rights Act. In the lawsuit, the family alleges that Mr. DeLaura, who they claim has a history of singling out and humiliating EP due to her disabilities, instructed the volleyball coach not to let EP play. Specifically, the lawsuit claims the volleyball coach cut EP from the team because her epilepsy required the school to hire a nurse who would be present at all games and practices, creating a significant financial burden on the school district. The family claims that the subsequent bullying was due to EP's disabilities and was not addressed properly by the school.
EP's disability classifications not only warranted special education and accommodations but are also qualifying disabilities under the New Jersey Law Against Discrimination, which entitles her to be free from discriminatory and retaliatory conduct in school and other public places. Under the Law Against Discrimination, schools and other places of public accommodation are prohibited from discriminating against and must take action to stop the harassment of any individual based on race, religion, national origin, gender, sexual orientation, gender identity or expression, disability, and other protected characteristics. This standard applied in schools even if the perpetrator is a student. The Law Against Discrimination also prohibits retaliation against a person for complaining about discrimination or bias-based harassment, or otherwise exercising or attempting to exercise his or her rights under the law.
In fact, the Law Against Discrimination is not the only anti-bias law protecting individuals in schools. Several federal laws prohibit discrimination in schools based on ethnicity, disability, and sex. Title II of the Americans with Disabilities Act and Section 504 of the Rehabilitation Act prohibit discrimination based on disability. Although Title II and Section 504 are often used to protect an individual's right to physically access buildings and other programs, they also ensure disabled individuals' rights to participate in all public services with reasonable accommodations where necessary. Having a nurse present to allow a player with medical issues to participate safely in a sport would almost certainly qualify as a reasonable accommodation. Where a school team requires try outs, however, students with disabilities are not exempted from demonstrating the requisite athletic ability to be on the team. If EP had the athletic skill necessary to play, and her requirement for nursing services was the reason she was cut from the team, that would be considered discriminatory conduct. If EP did not meet the athletic standards to be on the team, however, it is not disability discrimination to cut her.
For other protected categories, other laws apply. Title IX of the Education Amendments of 1972 prohibits discrimination based on sex in any educational program receiving federal funds. Some courts have found that this protection extends to individuals who are discriminated against for not conforming to gender stereotypes. Conflicts over discrimination in the school setting might involve how school administrators or other students treat their gay or transgender classmates, or sexual harassment. Title VI of the Civil Rights Act of 1964 prohibits discrimination based on race, color or national origin in any program receiving federal funds, including public and private schools. Some courts have recognized a right to relief where discipline practices unfairly discriminate against students of color. New Jersey is poised to enact a new state law that would help to identify and eradicate discriminatory discipline practices. The New Jersey Legislature is scheduled to vote this week on Assembly Bill A1184, which would require schools to report certain disciplinary actions broken down by race, economic status and disability to the Commissioner of Education twice a year.
Harassment based on any of these protected characteristics can also amount to discrimination. When school officials know that a student in a protected class is being harassed because of that protected status, and they take no adequate measures to stop the harassment, it can amount to discrimination. For instance, if the harassment is so pervasive or severe as to limit the victim's ability to participate in school or activities, it may be grounds for an anti-discrimination lawsuit.
When it comes specifically to disability discrimination in schools, especially when the claimant is a student with a disability, there are still many hurdles that make obtaining relief difficult. If a disabled student's claims relate to educational access, he or she must first go through an often lengthy administrative process before proceeding to state or federal court. When the claim for relief is seeking improved access to education services, compensatory services for lost educational opportunities, or reimbursement to parents for having to pay out of pocket in order to ensure educational access that was the school's responsibility, those matters are subject to administrative exhaustion requirements. In order to proceed straight to state or federal court on discrimination claims, the relief sought must not be available through administrative avenues and the gravamen of the complaint must be for some relief other than the disabled student's ability to benefit from his or her education.
It is still unknown whether the Norwood township case will be dismissed and the family instructed to first seek relief through New Jersey's Office of Administrative Law to rectify any discrimination associated with EP's ability to participate in a school sport. One thing is certain, however. Disability discrimination can happen in our schools as well as our workplaces and crafting a strong claim for relief can be complicated by many factors. The goal must always be ensuring the benefits of school and work to persons with disabilities to the same extent that their non-disabled peers enjoy those rights.