Two recent New Jersey lawsuit settlements highlight the prevalent issues of sexual harassment and sex discrimination that woman police officers continue to face in the workplace.  These cases illustrate how important it is for male-dominated work environments such as police departments to take preventative measures against sexual harassment and to take immediate remedial measures when it occurs.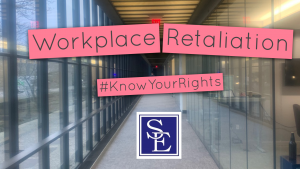 Last month, it was reported that Franklin Township settled a gender discrimination and retaliation lawsuit with a female police lieutenant, Kristen Durham for the sum of $300,000. The settlement also allows Durham to remain on paid personal administrative leave until she achieves 25 years of service credit in the New Jersey Division of Pensions, Police and Firemen's Retirement System.
Durham, of Robbinsville, started working for the Franklin Township Police Department in 1996, where women make up only about ten percent of the department. Durham is the first and only female lieutenant. In her complaint, she alleged that her male supervisors publicly engaged in extramarital affairs and openly discussed their sexual activities. One male supervisor even ordered Durham to watch a subordinate with whom he was having an affair when he was not at work and to report back to him if any male officers spoke to her. Durham's responsibilities included recruiting for the department and in that capacity, she personally recruited nine African American officers, and often advocated for female, Black and Hispanic officers to receive equal treatment to their white male counterparts in the department.
Durham alleged that she was discriminated against because of her gender, her inclusive approach to recruitment and her vocal opposition to what she viewed as the department's illegal employment practices. In her complaint, she claimed she was the victim of discrimination and retaliation including "disparate treatment, a hostile work environment, her promotional bypass to the rank of captain, the denial of training opportunities, the denial of specialized assignments and overtime, the undermining of her authority and responsibilities as a supervisor, bogus disciplinary investigations, petty acts of harassment and other adverse employment actions." She alleged that in retaliation for her recruiting and advocacy in particular, she was falsely named in an Internal Affairs complaint which led to her being placed on an administrative leave of absence and sent for a fitness-for-duty examination.
In order to state a claim under the New Jersey Law Against Discrimination, Durham would have needed to show that the police department discriminated against her by either differential treatment or statements and conduct that reflected their discriminatory bias in any job-related action including promotions, compensation, and the conditions or privileges of employment. This discrimination would have to be based on her belonging to a protected class and would most likely have to be intentional. Protected categories include race, color, national origin, nationality, ancestry, sex (including pregnancy and sexual harassment), marital status, domestic partnership or civil union status, affectional or sexual orientation, and gender identity or expression, among others.
In another reported settlement last week, the borough of Mountainside settled a $2.45 million lawsuit filed by five police officers and a dispatcher alleging a hostile work environment. The Mountainside lawsuit was filed in May 2018 by five male officers and a female dispatcher who alleged that they were subjected to a hostile work environment in which two fellow officers would throw around sex toys, expose themselves, rub their private areas on their colleagues' food and drink, and use a flashlight and a dildo they nicknamed "Big Blue" to physically harass and assault their colleagues in sexual ways, sometimes recording the harassment for their own amusement. One of the officers was accused of making inappropriate comments to the female dispatcher, including that he wanted to impregnate her, asking her where she lived so he could look in her windows, and wanting to see her in a bathing suit. The same officer also had a history of using his department email account to forward pornographic material to his friends in the department. The Police Chief was allegedly not only aware of the behavior, but also participated at times.The Police Chief and two accused officers were all placed on paid leave after the lawsuit was filed and have since retired.
In order to sustain a claim for hostile work environment under the New Jersey Law Against Discrimination, an employee must show that the harassing behavior be sufficiently severe or pervasive enough to alter the conditions of employment, and to create an intimidating, hostile or offensive working environment. The conduct must have had the effect of reasonably interfering with a person's work experience and having the potential to affect the person's psychological well-being.
Although both these matters resolved outside of court without any admissions of wrongdoing, the settlements indicate the validity of the claims and the desire of public departments to avoid prolonged litigation and the possibility of a negative verdict at trial. Recent cases such as these demonstrate that harassment can occur in any industry, including those whose members are held to the highest moral standards, and has highly damaging effects on not only the targeted employees but the entire workplace. The justice system and the public have become increasingly sympathetic towards victims of workplace harassment, and these cases further serve to exemplify the importance of addressing these concerns with experienced employment lawyers who can advise the aggrieved employees of their legal rights and possible remedies.