In the wake of several recent equal pay settlements between female university professors and their employers, the newest litigation of this ilk has popped up in New Jersey. A lawsuit filed under the New Jersey Equal Pay law in state court last week by five women professors at Rutgers University alleges that they are paid significantly less than their male counterparts. Three of the five plaintiffs are world-renowned scholars in their fields, having published multiple books, hundreds of articles, given numerous presentations, and won several awards. In fact, two of the plaintiffs have achieved the most prestigious professional designation at Rutgers, and yet all five are still paid tens of thousands of dollars less than male professors with the same or less impressive credentials.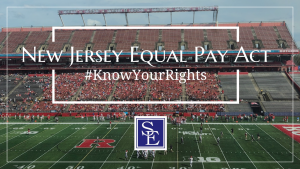 One of the plaintiffs, Professor Deepa Kumar, who teaches journalism and media studies and is one of the country's leading experts on Islamaphobia, was hired in 2004 at a salary that was the same or higher than four white men and women who were hired contemporaneously. However, today, Professor Kumar makes approximately $25,000 less per year than other professors in her department despite multiple attempts to negotiate pay raises. Another plaintiff, Professor Judith Storch, a distinguished professor of nutritional sciences, recently learned that her salary was on average $46,000 lower than all other distinguished professors in biomedical science.
Remarkably, Rutgers already has in place a system of review by which professors may request wage increases in order to advance the goal of pay equity. The plaintiffs in the current lawsuit claim that system is not working. In 2018, the University's faculty union commissioned a study that showed pay discrepancies between male and female faculty members. Overall, women faculty were paid 7% less than men. Over time, that gap can add up to a substantial amount of lost income. Professor Kumar estimates that she has lost over $300,000 since her employment with Rutgers began. Another litigant against Rutgers, Professor Nancy Wolff claims she lost $500,000. Putting that loss into terms of gender inequity, Professor Wolff pointed out that half million dollars that should have been paid to her was instead used by her employer to pay her white male counterparts at significantly higher rates than she was being paid.
Rutgers apparently recognized this as a problem that required fixing. The findings of the faculty union's study led to an agreement between Rutgers and the faculty union that put in place a formal process by which any faculty member could request a salary adjustment at any time. This pay equity agreement is intended to provide adjustments that recognize professional achievements, compete with offers of employment from other institutions, respond to changing market conditions, and "to make equity adjustments" when salary is "compared to relevant peers with the recognition that Rutgers prohibits discrimination based on any legally protected classifications, including, but not limited to, gender and race." Once a written request for a salary adjustment has been submitted, a determination is supposed to be made and communicated to the professor making the request within ninety working days. One of the plaintiffs made her request on Nov. 18, 2019, but ten months later it was still under review. The Complaint filed alleges that the other four plaintiffs also filed pay equity requests that were never resolved. In fact, the faculty union reports that none of the 81 requests the University has received for salary adjustments under the pay equity agreement have been resolved.
Although Rutgers spokespeople refused to comment on the pending litigation, the University has issued a statement asserting its commitment to pay equity and its willingness to review its pay structure, but claimed its efforts had been stalled by the COVID-19 pandemic. It is true that as a public university, Rutgers has suffered budget cuts. Like so many employers in New Jersey, the University is also dealing with new and sometimes difficult challenges to arranging work schedules, maintaining jobs and benefits for its employees, and addressing health and safety concerns due to the pandemic.
The complaint against Rutgers follows a string of similar lawsuits across the country that have shone a light on pay inequity in academia. Earlier this month, Princeton University agreed to pay over $1.2 million to women faculty members after an investigation by the U.S. Department of Labor revealed pay inequities. Northern Michigan University recently settled a gender discrimination lawsuit filed by four female professors for $1.46 million. At the University of Arizona, one female professor received a settlement of $100,000 in the second settlement this year for the university related to unequal pay for women. In the largest recent settlement of this kind, the University of Denver is paying $2.66 million to a group of female professors after it was sued by the Equal Employment Opportunity Commission for violations of the Equal Pay Act and federal anti-discrimination laws.
Pay inequity in higher education is an enduring problem that has not been resolved despite the relative job security, education and socio-economic status of the women who are suffering the discrimination. This particular group of workers is relatively privileged and has at their disposal the resources necessary to fight injustices and demand change that most other workers do not. In fact, women professors have been formally fighting against pay inequity for decades. The late Justice Ruth Bader Ginsburg was hired as a law professor at Rutgers University in the 1960s where she led a group of female employees to file a complaint for equal pay and won. Rutgers University, along with many other institutions of higher learning, has some work to do to rectify the dogged inequality with which men and women are paid for their work. Lawsuits such as these, when viewed together, indicate hope for lasting systemic change in the way the contributions of women are valued in the workplace.