The New Jersey Division of Civil Rights has published its guidelines concerning the administration of the New Jersey Diane B. Allen Equal Pay Act.  The New Jersey Equal Pay Act, first enacted into law in 2018, makes it unlawful for employers to engage in discriminatory compensation practices and retaliate against employees for complaining about workplace wage related issues.  The guidelines issued by the New Jersey Division of Civil Rights will assist employers, employees, lawyers and judges on how to interpret the equal pay law in situations involving workplace wage discrimination and wage disparity.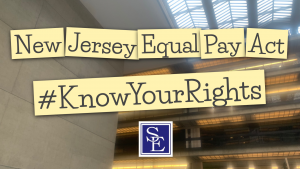 The New Jersey Equal Pay Act prohibits employers from paying employees who are members of a protected class less than their counterparts who perform substantially similar work and are not in a protected class.  Unlike many other state equal pay laws, protected classes under the New Jersey equal pay statute are not limited to gender and instead include all other protected classes under the Law Against Discrimination such as age, sexual orientation, race, disability, national origin and others.
The New Jersey Equal Pay Act amended the New Jersey Law Against Discrimination to provide for significant penalties to employers who violate the law.  In addition to an award of back pay for up to six (6) years from the date of the last unlawful pay occurrence, the law allows an employee to recover an additional amount equal to three (3) years of the awarded back pay monetary amount as treble damages.