In the wake of several recent equal pay settlements between female university professors and their employers, the newest litigation of this ilk has popped up in New Jersey. A lawsuit filed under the New Jersey Equal Pay law in state court last week by five women professors at Rutgers University alleges that they are paid significantly less than their male counterparts. Three of the five plaintiffs are world-renowned scholars in their fields, having published multiple books, hundreds of articles, given numerous presentations, and won several awards. In fact, two of the plaintiffs have achieved the most prestigious professional designation at Rutgers, and yet all five are still paid tens of thousands of dollars less than male professors with the same or less impressive credentials.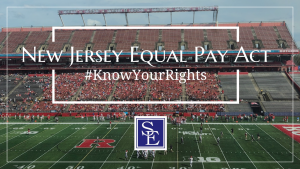 One of the plaintiffs, Professor Deepa Kumar, who teaches journalism and media studies and is one of the country's leading experts on Islamaphobia, was hired in 2004 at a salary that was the same or higher than four white men and women who were hired contemporaneously. However, today, Professor Kumar makes approximately $25,000 less per year than other professors in her department despite multiple attempts to negotiate pay raises. Another plaintiff, Professor Judith Storch, a distinguished professor of nutritional sciences, recently learned that her salary was on average $46,000 lower than all other distinguished professors in biomedical science.
Remarkably, Rutgers already has in place a system of review by which professors may request wage increases in order to advance the goal of pay equity. The plaintiffs in the current lawsuit claim that system is not working. In 2018, the University's faculty union commissioned a study that showed pay discrepancies between male and female faculty members. Overall, women faculty were paid 7% less than men. Over time, that gap can add up to a substantial amount of lost income. Professor Kumar estimates that she has lost over $300,000 since her employment with Rutgers began. Another litigant against Rutgers, Professor Nancy Wolff claims she lost $500,000. Putting that loss into terms of gender inequity, Professor Wolff pointed out that half million dollars that should have been paid to her was instead used by her employer to pay her white male counterparts at significantly higher rates than she was being paid.