On June 29, 2020, the U.S. District Court for the District of New Jersey ruled that consumer goods giant, Amazon, must defend itself in a class action lawsuit brought by warehouse employees claiming violations of wage and hour laws arising from Amazon's mandatory post-shift security screenings.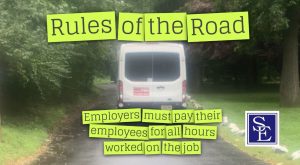 According to the Complaint, at the end of the workday, Amazon's warehouse employees must submit to a lengthy security screening before they are permitted to leave Amazon's premises. The lawsuit alleges that the security screening requires hundreds of employees to wait together before each individual must walk through a metal detector and place his or her personal items on a conveyor belt to be scanned via x-ray. If, after the initial screening, Amazon determines that additional screening is necessary, the employee must then report to the secondary screening area for a manual search of the employee's person. These screenings are intended by Amazon to prevent theft of goods and can take approximately half an hour to complete after the employees have already clocked out of their shifts. Employees are not compensated for the time spent in these screenings.
The Complaint also alleges that the same security screening procedure is required of any employee that wishes to leave Amazon's premises for his or her unpaid, 30 minute lunch break. Given the vastness of Amazon's parking lot and remoteness of its premises, the screening allegedly prevents employees from going off site for their meal breaks. The lawsuit claims that Amazon violated federal and state wage and hour laws by failing to count time spent in these mandatory screenings as "hours worked" for purposes of calculating wages and overtime.