The New Jersey Appellate Division issued an opinion last month that has provided additional clarity to what limitations a company may permissibly impose on its employees pursuant to non-competition clauses with restrictive covenant agreements. The court's opinion (delivered in an action involving six consolidated appeals) reaffirmed the long-standing principle that employers can impose certain provisions commonly found in restrictive covenant agreements in the interest of fair competition; however, the court also held that certain other common provisions should be struck from restrictive covenant agreements as the court found them to be unduly harmful to employees.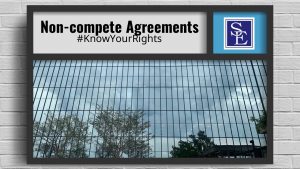 In ADP, LLC v. Kusins, the court reviewed the restrictive covenant agreements signed by six individual employees of the human resources management software company ADP. The agreements stipulated (in pertinent part) that upon leaving the company, the employees could not compete with ADP by soliciting the ADP clients or potential clients with whom those employees had a previous business relationship with, or whose information they became aware of during their tenure at ADP. This restriction was only applicable within the geographic area specified by the restrictive covenant agreement. This type of restriction, while seemingly onerous, has unfortunately become commonplace in our society. Despite employment attorneys making arguments to the contrary, courts have routinely upheld these types of restrictions on the basis that they do not cause undue harm to the employees. Through the recent opinion in Kusins, the Appellate Division has taken the opposite view and found that these restrictions are too great.
In their opinion, the Appellate Division identified two distinct restrictive covenant agreements signed by the six employees. The first contained traditional provisions, which the court found to be non-controversial and enforceable. In so holding, the court reaffirmed the general vitality of restrictive covenant agreements in New Jersey – coming as little surprise. The second restrictive covenant agreements signed by the employees was the main point of contention. These restrictive covenant agreements were signed via a "clickwrap" agreement by the employees and were provided only to those employees recognized as "top performers." In exchange for signing these restrictive covenant agreements, the employees would be entitled to stock option rewards. The court acknowledged that ADP had a legitimate need to impose these additional restrictive covenant agreements on their top performers, because those employees had heightened ability to harm ADP through competition, due to their proven capacity in this industry. Nonetheless, the court soundly rejected the provisions as they were written and "blue-penciled" or edited the restrictive covenant agreements to lessen the restrictions, remove the undue harm to the employees, and render the restrictive covenant agreements enforceable.