The #MeToo movement has shined much-needed light on the prevalence of sexual harassment within political campaign organizations.  Operating a political campaign, a transient organization — comprised of the candidate, and his or her workers, applicants, consultants and invitees – presents unique challenges. These challenges, however, do not shield campaigns the legal obligation to keep women safe from sexual harassment and misconduct within the campaign environment.  Women who are sexually harassed while working in campaigns are increasingly speaking, including filing lawsuits against the campaign entities when they fall victim to sexual harassment and assault.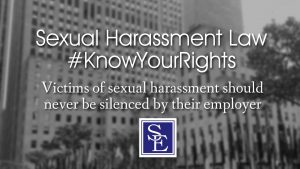 Most recently, it was reported that a Chicago-based political staffer, Alaina Hampton, settled a sexual harassment lawsuit against a campaign, several political entities, and the campaign supervisor who sexually harassed her.  Ms. Hampton, a former political staffer and campaign manager, filed the lawsuit in March 2018.  She first began working on Chicago-based political campaigns in 2012 after graduating college with a degree in political science.  In or about July 2016, Ms. Hampton began working on three separate democratic campaigns for the Democratic Party of Illinois for which she was paid a salary.  Kevin Quinn, Ms. Hampton's supervisor, was a well-known, high-ranking political operative for Speaker Madigan and the Madigan Defendants. Mr. Quinn directed Ms. Hampton's work on any one of the three campaigns to which she was assigned.
Shortly after Ms. Hampton began working with Mr. Quinn, she alleges he began to subject her to severe and pervasive sexual harassment.  According to Ms. Hampton's complaint, Mr. Quinn regularly pursued Ms. Hampton for a romantic and sexual relationship. Mr. Quinn's purported sexually harassing behavior included repeated late-night text messages asking Ms. Hampton out, telling her she was "smoking hot," and insisting she go out with him. Ms. Hampton asserts that she repeatedly told Mr. Quinn that she did not want to become involved with him and wanted to keep their relationship professional.  Ms. Hampton alleges that despite her repeated rejections, Mr. Quinn refused to take "no" for an answer.