On December 11, 2019 at The Hollywood Reporter's Annual Women in Entertainment breakfast gala, Gretchen Carlson announced the formation and launch of "Lift of our Voices," an education and advocacy organization focused on putting an end to the practice of using Non-Disclosure Agreements ("NDAs") to silence victims of sexual harassment and discrimination. In making the announcement, Carlson was joined on stage by Charlize Theron, an actress who is portraying Megyn Kelly in the upcoming film "Bombshell," which details the Fox News sexual harassment scandal that saw then-CEO Roger Ailes forced to resign from the company. Carlson's sexual harassment complaint against Ailes ultimately lead to his resignation, but her settlement with Fox News, and the NDA she was required to sign to enter into that settlement, have prevented her from speaking publicly about the case.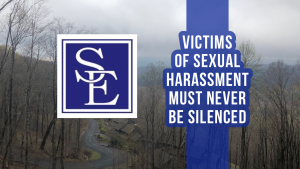 An NDA is a contract that identifies certain information or topics that the parties agree they will not discuss with anyone following execution of the contract or agreement. NDAs typically are entered into in connection with an additional contract or agreement, such as an employment contract or a settlement or severance agreement. Often in the context of employment contracts, a prospective employee will agree not to discuss or disclose certain information regarding their employment to anyone outside the company, in exchange for being hired. In the context of settlement or severance agreements, a departing employee agrees not to discuss or disclose certain information regarding their employment or their reason for leaving the employment, in exchange for a settlement or severance payment.
In either situation, the NDA agreement can be used by the employer to facially "resolve" issues of harassment and discrimination without truly addressing systemic issues within their organization. In such a case, new prospective employees are unaware that they are entering a workplace where they may be unsafe. The public at large is likewise kept unaware, and individuals will then unwittingly support companies that they otherwise may choose not to support. Consumers are unable to apply commercial pressure to businesses that harbor and protect harassers, allowing those companies to circumvent a powerful societal check on business practices. Carlson and her organization are aiming to solve this problem, to give society at large access to this information, and more importantly, as Carlson stated, to give victims "back the voices they deserve."
True to its name, Carlson is not alone in forming Lift Our Voices. She is joined by other former Fox News personalities Julie Roginsky and Diana Falzone, who have also been involved in high-profile public controversies regarding NDAs that they were subject to. Roginsky's case was similar to Carlson's: she alleged that Roger Ailes presented her with a quid pro quo offer of an enhanced position at Fox News if she agreed to have sex with him. Roginsky further alleged that after she refused the offer, she suffered retaliation. Falzone similarly alleged that she had faced gender discrimination during her tenure at Fox. Specifically, she claimed that she was demoted after publishing a story about her struggle with endometriosis, a medical condition that effects the uterus. Falzone also alleged that Fox News stopped her from reporting on the controversy surrounding President Donald Trump and his alleged relationship with Stephanie Clifford ("Stormy Daniels"), prior to the Wall Street Journal breaking the story. Due to an NDA Falzone entered as a condition of her employment, she was not permitted to speak publicly about the situation without risk of losing her job.
NDAs can serve important purposes in individual cases, but the cumulative effect of NDAs in the workplace presents a serious problem. As the members of Lift Our Voices said in a joint statement, "for years, survivors of toxic workplace environments have either been forced into arbitration or to sign NDAs as a condition of employment, settlement or in order to receive a severance package. This is akin to a professional scarlet letter with potentially long-lasting ramifications. It can be career-ending, and often causes deep emotional, financial, and professional trauma. Even as the #MeToo movement opens the floodgates and brings issues of workplace toxicity to the forefront, survivors must remain silent while others warp the facts. The current paradigm, which silences workers and takes away their right to share their own experiences, must end."
Earlier this year, New Jersey took an important step toward accomplishing Lift Our Voice's goal. In March 2019, the New Jersey legislature passed Senate Bill 121 (the "NDA Bill") which prohibits enforcement of NDAs in employment contracts or settlement agreements that have "the purpose or effect of concealing the details relating to a claim of discrimination, retaliation, or harassment." The NDA Bill continues that such agreements are unenforceable as being contrary to the public policy of the State. While the NDA Bill does not apply to agreements entered into outside the State of New Jersey, and while it does not apply to agreements entered into prior to the March 2019 passage of the bill, it is still an encouraging step in the fight for greater workplace transparency.