A New Jersey Appellate Division has denied an appeal of a whistleblower verdict in favor of a state employee against her former employer the State Department of Corrections.  The plaintiff, Meg Yatauro, brought her claim under the New Jersey whistleblower law known as the Conscientious Employee Protection Act, alleging that she suffered adverse employment action as a result of objecting to several improprieties over the period of years concerning the misuse of public funds.  After a lengthy trial, the jury agreed that Ms. Yatauro was retaliated for her whistleblowing activities and awarded her $1,000,000 in damages for emotional distress and economic losses.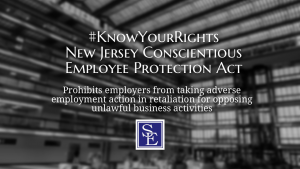 In this case entitled Meg Yatauro v. State of New Jersey, Gary M. Lanigan, Judy Lang, Mark Farsi, the plaintiff, Ms. Yatauro, began working for the Department of Corrections in civil service positions in 1984.  After nineteen years, Ms. Yatauro was promoted to the assistant superintendent position at Northern State Prison.  She was later transferred to Mid-State Correctional Facility, which she remained for two years, before being transferred to Central Reception and Assignment Facility, where she was promoted to associate administrator.  In 2012, Ms. Yatauro was transferred to the Albert C. Wagner Youth Correction Facility in an administrator position, where she alleged the whistleblowing and resulting retaliation took place.
The judge permitted Ms. Yatauro to present evidence of several whistleblowing events to the jury during the trial.  First, Plaintiff complained to her supervisor concerning the Chief of the Special Investigations Division having his Trenton office painted using funds out of the correction facilities budget at a time it had its own urgent need for repairs.  Another complaint was aslo related to an issue of misuse of funds involving another supervisor made unauthorized credit card purchases and permitted maintenance staff to work overtime without Ms. Yatauro's approval.
Following her complaints, Plaintiff was subjected to discipline for allegedly failing to fulfill her duties.  On Easter Sunday, 2013, a fight broke out at the jail facility in which Plaintiff failed to respond to the email informing her of the incident.  This caused the jail facility to cancel visits for the remainder of the day.  Despite Plaintiff admitting she was wrong to not keep in better contact, a committee was convened and recommended to demote Plaintiff back to a civil service position. The demotion resulted in a $26,000 reduction in her salary.  Plaintiff became severe depressed following her demotion, which required her to take a FMLA leave.  She then retired.
Plaintiff alleged that the decision to demote her was taken in retaliation for her protected complaints concerning the incidents of misuse of public funds.  The Department of Corrections defended her claims by arguing that the alleged whistleblowing events did not constitute the type of employer conduct recognized under the New Jersey whistleblowing statute nor were the complaints of sufficient gravity to support the relief sought.  The Department of Corrections also argued that there was no evidence of retaliatory action being taken against the Plaintiff.
The Appellate Division rejected all the Department of Corrections arguments.  In its decision, the court recognized that CEPA is a remedial statute and should be liberally construed to effectuate its social goal of protecting employees from retaliation when reporting workplace misconduct.  The Court further noted that an employee is not required to show the employer actually violated the law, but instead, must only prove that he or she reasonably believed the employer had violated a law or had acted incompatible with a clear mandate of public policy.  In order to establish that an activity or practice is incompatible with a clear mandate of public policy, the employee must identify authority that provides a standard against which the complained of conduct may be measured.
Under this framework, the court found that the jury's conclusion that the misuse of public funds and misuse of power by a corrections officer is contrary to the public interest and therefore unlawful under the New Jersey whistleblower retaliation statute.  The court agreed with the jury that the plaintiff had presented sufficient evidence of a reasonable belief that the Department of Corrections acted unethically or illegally when she objected.  While the employee could not cite an actual law that was violated in this case, a reasonable person who agree that public officials should not misuse public funds and that misuse of public funds is a sufficient basis to constitute whistle-blowing activity warranting protection under the anti-retaliation law.
This decision marks an important victory for employees in New Jersey who suffer retaliation at the workplace.  The New Jersey CEPA statute is considered as one of the strongest workplace anti-retaliation statute in the country.  By providing employment protection to employees from being retaliated against by the state or municipal government for complaining about the misuse of governmental funds, this case will rightfully be cited by New Jersey employment lawyers in retaliation cases involving misuse of public funds.