For many working parents, school closures across the State of New Jersey since mid-March have posed insurmountable challenges as families attempt to manage work obligations with remote schooling and closed childcare centers. Now that the school year is over for most students and many summer camps are shuttered or running virtually, working parents are faced with a new set of childcare challenges that will impact their ability to fulfill work obligations. What options are available to working parents who are unable to balance the demands of work and childcare during Covid-19 closures this summer?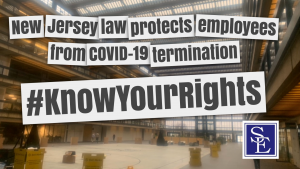 The United States Department of Labor (DOL) said Friday in one of its guidance letters that working parents may be entitled to up to 10 weeks of partially paid leave over the summer to care for their children if they can show that the virus disrupted plans to send them to a summer camp. To be eligible for such leave under the Families First Coronavirus Response Act (FFCRA), covered workers include those employed by small and mid-size employers—those with more than 50 but fewer than 500 employees.
How does an employee demonstrate the intended plans for his or her children to attend a summer program? Proof of summer camp plans were firm and then disrupted by the virus should be sufficient. The key inquiry is whether there is any "evidence of a plan" to rely on summer camp as a means of childcare, and to consider whether it is "more likely than not" that if the camp was running normally, the child would be attending. Examples of sufficient proof might be an application or deposit that was submitted to the camp, proof that a child was already enrolled in a camp that is now closed, showing the child attended summer camp in previous years, having the child's name on a camp's waitlist, or some other indication of the worker's intent to enroll the child(ren). At a minimum, the employee's affirmative steps to secure a spot in a summer camp evidences "plans" that should satisfy FFCRA's requirement for coverage. An employee who merely expressed an interest in a summer program but took no concrete steps toward enrollment will likely not be covered.
The FFCRA took effect on April 1, 2020 and is one of several legislative packages that Congress passed in response to the Covid-19 pandemic. It supplements the existing Family and Medical Leave Act (FMLA), but it is important to note that while the FFCRA provides additional circumstances under which an employee will qualify for leave, it does not extend the total amount of leave time. The FMLA allows eligible employees to take up to 12 weeks of job-protected, unpaid time off over a 12-month period for a variety of family and medical reasons, including if a worker has a serious health condition that prevents him or her from performing key parts of the job or if he or she needs to take care of a sick family member.
The FFCRA essentially amends the FMLA to provide workers with up to 10 weeks of partially paid leave, after the first 2 unpaid weeks, to care for children whose schools or childcare centers have closed due to the virus. Recent guidance from the DOL makes clear that closed summer camps resulting in children without childcare presents additional circumstances allowing employees to take FFCRA protected leave. However, the FFCRA does not extend the total amount of available leave for an individual employee such that if a worker took 4 weeks of FMLA leave before the pandemic struck, that time would count against the amount of remaining leave he or she is entitled to take under the FFCRA for childcare purposes. In some cases, the entire 12 weeks may have already been exhausted, and the employee would not be entitled to any additional leave.
Only three weeks after the FFCRA went into effect, the first FFCRA lawsuit was filed in Pennsylvania. In Jones v. Eastern Airlines LLC, an airline's former director of revenue management filed suit against her former employer and two executives for unlawful termination after she requested time off to care for her child under the FFCRA. Since the Jones filing, several other FFCRA lawsuits have been filed alleging violation of FFCRA rights, retaliatory firing, and unlawful denial of leave. In these cases, successful plaintiffs can recover monetary damages and reasonable attorneys' fees and costs of suit.
The parameters of the FFCRA are new and still being interpreted by employers, employees and the courts. The outcomes of FFCRA claims are uncertain, but protecting the health and safety of employees and their families is a paramount concern during this pandemic.
Now more than ever it is imperative that employers are working to provide safe and flexible work environments and are actively engaging with their employees regarding requests for time off. Our experienced employment law attorneys are working to ensure that employers make FMLA and FFCRA decisions fairly and in accordance with the law.