"There's a long and ugly history at Edna Mahan," said New Jersey Attorney General Gurbir Grewal. He was referencing not only the January 11, 2021 attack in which prison guards wearing riot gear beat, pepper sprayed and sexually assaulted the female inmates housed at the Edna Mahan Correctional Facility for Women in Clinton, New Jersey. The long history of sexual abuse at Edna Mahan dates back at least to the early 1990s, and a searing report issued in the Spring of 2020 by the Department of Justice has exposed the prison as a hostile and abusive environment, not because of the inmates' crimes, but because of the guards whose duty it has been to house, feed and protect these women.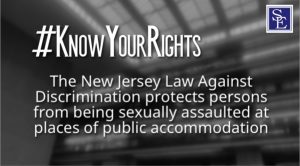 Around midnight on January 11, 2021, over two dozen officers forcibly removed the women inmates from their cells, resulting in broken bones, concussions, and in at least one instance, forcible sexual penetration. Although we typically protect the privacy of harassment and assault victims, some of the women who were attacked have chosen to come forward publicly. Inmate Ajila Nelson said she was beaten and sexually assaulted in her cell during the extraction. Desiree Dasilva was punched repeatedly in the head resulting in a broken eye socket and said an officer left a boot print on her arm. Emmalee Dent was punched in the head approximately twenty-eight times by one of the guards as she pressed herself against a wall and attempted to protect herself from the blows. Inmate Faith Haines told a local media outlet that the attack started when another prisoner became upset that her cell had been searched while she was outdoors for recreation. Reportedly, Sean St. Paul, an administrator who was suspended in the wake of the attack threatened the inmates with similar discipline "every night" that they "acted up".
A few weeks later, three prison guards – Sergeant Amir Bethea, Sergeant Anthony Valvano and Officer Luis Garcia – were accused of filing false reports in an effort to cover up the attack and were charged with official misconduct, tampering with public records, and Garcia was charged with aggravated assault for the beating of Emmalee Dent.