"There's a long and ugly history at Edna Mahan," said New Jersey Attorney General Gurbir Grewal. He was referencing not only the January 11, 2021 attack in which prison guards wearing riot gear beat, pepper sprayed and sexually assaulted the female inmates housed at the Edna Mahan Correctional Facility for Women in Clinton, New Jersey. The long history of sexual abuse at Edna Mahan dates back at least to the early 1990s, and a searing report issued in the Spring of 2020 by the Department of Justice has exposed the prison as a hostile and abusive environment, not because of the inmates' crimes, but because of the guards whose duty it has been to house, feed and protect these women.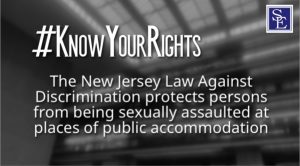 Around midnight on January 11, 2021, over two dozen officers forcibly removed the women inmates from their cells, resulting in broken bones, concussions, and in at least one instance, forcible sexual penetration. Although we typically protect the privacy of harassment and assault victims, some of the women who were attacked have chosen to come forward publicly. Inmate Ajila Nelson said she was beaten and sexually assaulted in her cell during the extraction. Desiree Dasilva was punched repeatedly in the head resulting in a broken eye socket and said an officer left a boot print on her arm. Emmalee Dent was punched in the head approximately twenty-eight times by one of the guards as she pressed herself against a wall and attempted to protect herself from the blows. Inmate Faith Haines told a local media outlet that the attack started when another prisoner became upset that her cell had been searched while she was outdoors for recreation. Reportedly, Sean St. Paul, an administrator who was suspended in the wake of the attack threatened the inmates with similar discipline "every night" that they "acted up".
A few weeks later, three prison guards – Sergeant Amir Bethea, Sergeant Anthony Valvano and Officer Luis Garcia – were accused of filing false reports in an effort to cover up the attack and were charged with official misconduct, tampering with public records, and Garcia was charged with aggravated assault for the beating of Emmalee Dent.
Governor Murphy's anticipated Republican rival for the gubernatorial race, Jack Ciattarelli, along with many Democratic politicians have called for the firing of Corrections Commissioner Marcus Hicks.  Senate Majority Leader Loretta Weinberg (D-Bergen) and Senators Linda Greenstein (D-Mercer) and Nellie Pou (D-Passaic) plan to introduce legislation creating an independent public advocate to oversee state and county correctional facilities, as well as other state-run facilities housing residents. Murphy has refused to remove Hicks and instead has called for an independent investigation into the prison. This investigation seems repetitive in that it follows less than a year after the Department of Justice's Civil Rights Division and the U.S. Attorney's Office for the District of New Jersey, pursuant to the Civil Rights of Institutionalized Persons Act (CRIPA), investigated and reported on the systemic failures at Edna Mahan that have created a "culture of sexual abuse" and have left inmates living in fear for their safety for decades. The Department of Corrections failed to reach a settlement with the U.S. Department of Justice over the April 2020 report.
The report examined conditions at Edna Mahan and found that the sexual abuse of prisoners by staff violated the Eighth Amendment of the United States Constitution, and that those violations amounted to a generalized practice of abuse at the prison. The report stated in pertinent part, "Specifically, the United States provides notice that the State of New Jersey, through the New Jersey Department of Corrections (NJDOC), fails to keep prisoners at Edna Mahan safe from sexual abuse by staff. From October 2016 to November 2019, five Edna Mahan correction officers and one civilian employee were convicted or pled guilty to charges related to sexual abuse of more than 10 women under their watch." For example, in May 2018, an Edna Mahan corrections officer was found guilty of five counts of sexually abusing prisoners with the court noting the prison's "pervasive culture" of sexual abuse. In January 2019, another corrections officer pled guilty to official misconduct charges after admitting that he repeatedly sexually abused two Edna Mahan prisoners over a period of several years. In sentencing him, the court concluded that the officer had "sexually assaulted a vulnerable population."
Despite being on notice of this sexual abuse for decades, the report found that the Department of Corrections and Edna Mahan failed to remedy the systemic problems that enabled the abuse. It also found that the systems in place at Edna Mahan discouraged prisoners from reporting sexual abuse. Inmates who did were shackled, removed from their housing units and jobs and placed in segregation with limited out of cell time and interaction with other inmates. The prison also caused inadequate investigations into allegations of prisoner sexual abuse and maintained inadequate supervision, providing opportunities for sexual abuse by the guards. Violating federal law has been "the regular rather than the unusual practice."
Under New Jersey state law, it is a crime for prison staff to have sexual contact with prisoners, and the State purportedly has a zero-tolerance policy for the sexual abuse and harassment of prisoners. However, even after the report was published, the Department of Corrections failed to reach an agreement with the Department of Justice regarding the resolutions suggested to improve prison conditions.
While legislators work to establish reliable oversight of the prison system and advocacy for residents of state-run facilities, a question remains about the legal protections available to inmates at Edna Mahan who have been sexually harassed and assaulted by their guards in the name of discipline or order. Eighth Amendment claims for cruel and unusual punishment generally apply to claims by prisoners who argue that discipline in prison has infringed on their civil rights.
But there is a potential remedy to be found in state statutory law as well. The New Jersey Law Against Discrimination mandates that "All persons shall have the opportunity . . . to obtain all the accommodations, advantages, facilities, and privileges of any place of public accommodation, . . . without discrimination because of . . . sex. . . subject only to conditions and limitations applicable alike to all persons. This opportunity is recognized as and declared to be a civil right."
New Jersey district courts have held that prisons are in fact places of public accommodation. And sexual harassment is an established example of sex discrimination under the Law Against Discrimination. This all means that when female prison inmates are subject to sexual harassment and abuse by prison employees, the prison can be held liable for their damages under a theory of either negligence or vicarious liability. Whereas the Eighth Amendment requires a prisoner to meet a deliberate indifference standard – which generally means that a right was intentionally denied or interfered with – a finding of liability under the Law Against Discrimination only requires a the victim to show that the prison did not act reasonably to prevent or stop abuse from happening, perhaps by failing to enact anti-harassment policies and mechanisms, or that it knew about the harassment and failed to take effective measures to end it. But taking reasonable actions to end the harassment is not enough. Known as "an incident of continuing sexual harassment", once a pattern of abuse has created an offensive environment, the mere presence of the abuser in the same physical area as the victim can constitute further harassment. This is an important factor to consider in cases such as those at Edna Mahan because it recognizes that victims continue to experience emotional distress when they are forced to have contact with their harassers, regardless of the harassers' specific behavior and ensures that the prison may be liable for sexual abuse of prisoners if they required an inmate to continue reporting to or interacting with her abuser. The legal standard under the Law Against Discrimination is likely easier for the Edna Mahan victims to meet than is the Eighth Amendment deliberate indifference standard, and given the findings of the Department of Justice's April 2020 report, these women certainly have a viable cause of action under this state law.