A New Jersey Appellate Division has denied an appeal of a whistleblower verdict in favor of a state employee against her former employer the State Department of Corrections.  The plaintiff, Meg Yatauro, brought her claim under the New Jersey whistleblower law known as the Conscientious Employee Protection Act, alleging that she suffered adverse employment action as a result of objecting to several improprieties over the period of years concerning the misuse of public funds.  After a lengthy trial, the jury agreed that Ms. Yatauro was retaliated for her whistleblowing activities and awarded her $1,000,000 in damages for emotional distress and economic losses.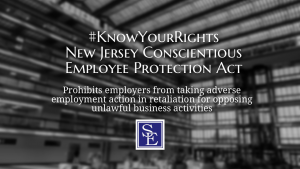 In this case entitled Meg Yatauro v. State of New Jersey, Gary M. Lanigan, Judy Lang, Mark Farsi, the plaintiff, Ms. Yatauro, began working for the Department of Corrections in civil service positions in 1984.  After nineteen years, Ms. Yatauro was promoted to the assistant superintendent position at Northern State Prison.  She was later transferred to Mid-State Correctional Facility, which she remained for two years, before being transferred to Central Reception and Assignment Facility, where she was promoted to associate administrator.  In 2012, Ms. Yatauro was transferred to the Albert C. Wagner Youth Correction Facility in an administrator position, where she alleged the whistleblowing and resulting retaliation took place.
The judge permitted Ms. Yatauro to present evidence of several whistleblowing events to the jury during the trial.  First, Plaintiff complained to her supervisor concerning the Chief of the Special Investigations Division having his Trenton office painted using funds out of the correction facilities budget at a time it had its own urgent need for repairs.  Another complaint was aslo related to an issue of misuse of funds involving another supervisor made unauthorized credit card purchases and permitted maintenance staff to work overtime without Ms. Yatauro's approval.