In our recent political climate, the First Amendment and protected speech have been prevalent topics of public discourse. The conversation around our constitutionally protected right to express ourselves freely often focuses on the words and actions of adults, especially adults in the public eye. But free speech is a right that extends to children as well, and now our nation's highest court will be deciding how a student's First Amendment right to free speech coexists with a public school district's right to control certain forms of student expression.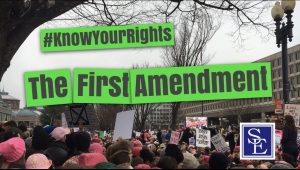 Brandi Levy was 14 years old when she found out she didn't make the varsity cheerleading squad at her high school. In response, she and a friend posted a video to Snapchat in which they put up their middle fingers and said "F— school, f— softball, f— cheer, f— everything." The girls were off campus during non-school hours and posted to a personal social media account. But the "chat" made its way to her coaches at Pennsylvania's Mahanoy Area High School, and in response, Brandi was cut from the cheerleading squad for the entire year. The coaches' reasoning was that Brandi's post violated team rules to be respectful, avoid profanity and refrain from putting any negative information regarding Cheer on the internet. When the athletic director, principal, superintendent and school board all refused to reverse the decision of the cheerleading coaches, Brandi and her parents filed a federal lawsuit with the help of the American Civil Liberties Union (ACLU).
In 2017, the United States District Court for the Middle District of Pennsylvania granted Brandi's request for a preliminary injunction stopping the school from removing her from the cheerleading squad and barring it from enforcing its ban on students' speech off campus. The court found that, at that stage of the proceedings, Brandi had successfully shown the court that she was likely to succeed on the merits of her case and suspending her violated her First Amendment rights. The court based this decision on its view that Brandi's off campus speech was not disruptive to the school's operations and therefore, the school had no authority to control it. Brandi rejoined the JV squad for her sophomore year, but her lawsuit was years from being over. In the meantime, she continued cheering, making varsity both her junior and senior years.