A proposed bill that would significantly limit New Jersey employers' ability to prevent their employees from working with competing businesses will be considered by the New Jersey Assembly Labor Committee.  Proponents of the bill argue the new statutory framework will encourage innovation and production by eliminating the special hardships that non-compete agreements impose on New Jersey employees. This legislation, if passed, would be a gigantic victory for New Jersey employees whose pursuit of job and career opportunities have been stifled for far too long by employers' restrictive covenants.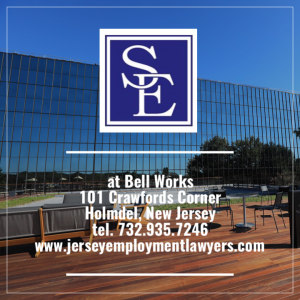 While non-compete agreements are disfavored by our Courts, current New Jersey law allows employers to require employees to execute these anti-competitive contracts as a condition of employment regardless of the agreement's ultimate enforceability. Job applicants who choose not to execute a non-compete agreement can lawfully be denied employment, and if an employee is fired for refusing to sign during the course of his or her employment, there is no recourse for wrongful termination.
Because litigation involving an alleged breach of a non-competition agreement is fact sensitive to the particulars of each case, it is often very difficult for an employee (or his or her employment attorney) to accurately predict whether a court will enforce a contested non-compete agreement. To make matters even worse for employees, most non-compete disputes will never get to the point of a judicial determination because of the high cost inherent in restrictive covenant litigation and the significant financial disparities that so often exist between the individual employee and entity employer.  The reality is that most working people simply cannot afford to pay a competent non-compete attorney to represent them.  Because of this reality, employees who have been subjected to overly broad, anti-competition restrictive covenants, have no recourse and are left with the choice of either remaining in a job they would like to leave or leaving the job only to be forced out of their chosen industry for the period of time (e.g. 1 to 2 years) required under the non-competition clause.
Assembly Bill No. 1650 would dramatically change this landscape by significantly limiting employers' use of non-compete agreements to restrain employees from establishing their own businesses or pursuing competitive job opportunities. Under the bill, in order for a restrictive covenant in an employment agreement or severance agreement to be enforceable, it must:
disclose the terms of the restrictive covenant in writing to a prospective employee during the earlier of either a formal offer of employment or 30 business days before the commencement of employment. In situations in which the employment has already commenced, the employer must provide the employee with the proposed agreement at least 30 business days before it becomes effective;
be executed by the employer and the employee;
expressly state that the employee has the right to consult with counsel prior to signing the agreement;
not restrict the employee's post-employment activities any more broadly than necessary to protect the legitimate business interests of the employer;
not exceed a period of twelve (12) months following the date of termination;
be reasonable in geographic reach and limited to the geographic areas in which the employee provided services or had a material presence or influence during the two years preceding the date of termination of employment and shall not prohibit an employee from seeking employment in other states;
be reasonable in the scope of restricted activities in relation to the interests protected and must be limited to only the specific types of services the employee provided during the last two years of employment;
not penalize an employee for defending against or challenging the validity or enforceability of the restrictive covenant;
not contain a choice of law provision that would have the effect of avoiding the requirements under the act if the employee is a resident or employed in New Jersey at the time of termination of employment and has been for at least 30 days immediately preceding the employee's termination of employment;
not require employees to waive any substantive, procedural or remedial rights under the law;
not prevent an employee from providing a service to a client of the employer where the employee does not initiate or solicit the client; and
not place an undue burden on the employee, not be injurious to the public or be inconsistent with public policy.
Additionally, the proposed legislation will void any restrictive covenants against (1) any non-exempt employees under the federal "Fair Labor Standards Act of 1938"; (2) any student that undertakes any internship or short-term employment; (3) any apprentice participating in an apprenticeship program; (4) seasonal or temporary employees; (5) an employee who has been terminated without a determination of misconduct or laid off by action of the employer; (6) an independent contractor; (7) any employee under the age of eighteen (18); (8) low wage employees; and (9) employees employed by the employer for less than one year.
The proposed legislation will also place an affirmative duty upon the employer to notify an employee, no later than 10 days after the employment relationship is separated, if it intends to enforce the agreement. This provision is aimed at preventing the all-too-common situations where an employee leaves employment to begin working at a new job without realizing they signed a non-compete agreement or without realizing that it could be viewed as restricting their ability to work at the new position.  There is no notification requirement, however, if the employee is terminated for misconduct.
The proposed bill will also require employers to pay their former employees to sit on the sidelines during the restricted period.  This means any employee who is subjected to a restrictive covenant after the passing of the bill must be paid 100 percent of their pay and benefits until he or she is able to pursue competitive employment.  Employers will not be responsible to pay an employee under this provision who was terminated for misconduct.
The proposed legislation also provides employees with the right to file a civil lawsuit against any employer or person for violating any of the provisions in the act.  In any such action, the court may void the agreement, enjoin the employer from enforcing the agreement and/or award monetary damages, including lost compensation, damages, reasonable attorneys' fees and costs and liquidated damages up to $10,000.
While it is encouraging that the legislature will be considering this proposed legislation, similar proposed bills have failed to garner enough legislative support to pass.  Without the enactment of comprehensive non-compete law reform, many New Jersey employees will continue to be restrained, both legally and practically, from seeking advancement opportunities at other companies.  Because the current legal framework in non-compete litigation favors employers, especially employers who have the resources to outspend their former employees in costly litigation, it is as good a time as ever to pass these much-needed reforms to level the playing field for employees.  Our employment lawyers will continue to monitor this bill and report back should it be passed into law.