For many teens, a summer job is a rite of passage, a way to earn money and gain independence, and start the transition into adulthood. For many teen girls working for Ocean City Beach Patrol, their summer lifeguarding jobs allegedly also came with unwanted groping, sexual harassment and sexual assault at the hands of their male supervisors. In recent news, local media sources have reported that a viral Instagram account called @ocbp_predators has led the Cape May County Prosecutor's Office to investigate hundreds of allegations of sexual harassment and assault by members of the Ocean City Beach Patrol (OCBP). Reading through the accounts is disturbing. According to the anonymous posters, most of the misconduct was perpetrated by adult men in their thirties and forties against teenaged female lifeguards working for the OCBP.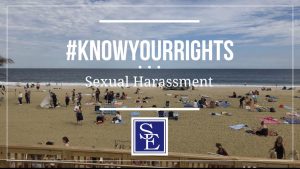 Providing a link to RAINN, the national sexual assault hotline, the Instagram account contains allegations of male guards, some of whom are also teachers in Ocean County public schools, being involved in incidents where their teenaged direct reports were continuously sexualized at work and plied with drugs and alcohol at after-work parties, where often they would wake up unaware of what had happened to them the night before. Several of the Instagram posts referred to older male lifeguards repeatedly citing New Jersey's age of consent, which is 16, to assert their entitlement to have sexual contact with the younger girls they supervised. However, New Jersey bars any adult in a position of authority having sexual contact with employees under the age of 18.
It seems clear that if the allegations against the male lifeguard supervisors are true, they could be facing criminal penalties, but that is not always the case. Sexual assault against teenagers is a significant societal problem that often goes unaddressed. According to TeenHelp.com, teenagers account for at least half of all reported instances of sexual abuse, with teens of working age (16-19) being over three times as likely as the general public to be victims. Additionally, once victimized, the same teen is more likely to experience further abuse, and when the victim is a high school aged female, she is more likely than others to develop eating disorders, risky sexual behaviors, unwanted pregnancies, and suicidal ideation. Despite these staggering statistics, less than one-third of sexual assaults against teens are reported. The low reporting rate may be due in part to the fact that only about half of abusers are eventually arrested and a measly 16% are imprisoned. Of those who do go to jail for their crimes, the average sentence is about 4 months. Approximately 80% of jailed rapists report that their victims were under the age of 18. What laws, other than the criminal code, are there to protect these girls?
It is important to remember that in addition to the criminal aspect of these accusations, these girls and their alleged abusers were employees of Ocean City at the time the abuse took place. Several allegations directly implicate the city in knowing about but failing to investigate allegations of abuse. One poster wrote on the Instagram account, "Many underage girls have been harassed by their direct supervisor and have reported this and no action has been taken to stop this." Corroborating posts by former male lifeguards said their complaints to supervisors about the harassment were ignored. When an employer knows or should know that harassment or abuse is happening at work, the employer has a legal duty to end it and prevent any additional misconduct from occurring in the future. It does not appear that happened here. However, in defense of the city, Mayor Jay Gillian said, "I want to continue to make sure all our city team members work in a safe environment." The city added that it "has strict sexual harassment policies and procedures in place and acts immediately on every reported complaint."
Sexual harassment and assault are routinely considered sex discrimination under New Jersey's Law Against Discrimination. But when sexual misconduct runs rampant in a workplace, with children as victims, are laws other than anti-discrimination statutes relevant? There are child labor laws and workplace safety regulations in place to ensure that teenagers are not exposed to dangerous, unhealthy or immoral conditions in the workplace. Employers have the main responsibility to provide all workers, including teenaged employees, with a safe workplace. But child labor laws mostly deal with age requirements and limits on working hours and the type of industry in which a teen is allowed to work. For instance, teens are often not permitted to work with heavy machinery until they are at least 18. The only mention in New Jersey's child labor laws about sexual misconduct appears in the form of a prohibition on hiring teens to work in adult theater. Likewise, the New Jersey Public Employees Occupational Safety and Health (PEOSH) State Plan, much like its federal counterpart the Occupational Safety and Health Administration (OSHA), focuses on health and safety standards to protect employees in the workplace. PEOSH covers all state and local government workers in New Jersey and would likely cover the Ocean City lifeguards. However, there are no established standards addressing sexual misconduct as a health and safety issue at work, despite the severe physical and mental health repercussions that so often follow sexual assault.
Any employee who is struggling with an unhealthy or dangerous workplace due to severe and pervasive sexual harassment and assault should seek assistance from someone who can protect their interests under all applicable laws and safeguard their rights using every available legal channel.