In recent celebrity employment law news, former reality television star, Angelina Larangeira (nee Pivarnick) settled a federal employment discrimination lawsuit against the Fire Department of the City of New York (FDNY) for $350,000. Pivarnick has been working as an Emergency Medical Technician (EMT) in Staten Island since 2016, where she alleges she was the victim of sexual harassment and assault. Specifically, Pivarnick sued the FDNY as well as one of her supervisors, Lieutenant Jonathan Schechter, alleging a hostile work environment and severe sexual misconduct that took place between 2017 and 2018.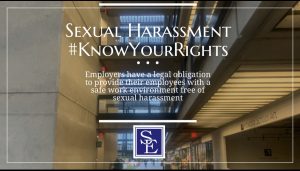 In the Complaint, Pivarnick alleges that she was subjected to "repeated and unwelcome sexual advances, degrading comments about her body, vulgar sexual comments, inappropriate questions about her private relationships and, in one instance, the groping of an intimate part of her body without her consent". This sexual misconduct allegedly took place in person at her work and via text message, when her supervisor sent her a message stating, "Your ass looked amazing and I wish I wasn't working or in uniform because I definitely would've kissed those amazing lips". As in many sexual harassment cases, Pivarnick was also assaulted. In her pleadings, she alleged that in May 2018, her supervisor groped her buttock and "made contact with her vaginal area."
At the time her suit was filed, Pivarnick released a statement: "I suffered severe sexual harassment while working for EMS and was retaliated against by my management when I complained internally. It should go without saying that what I experienced has nothing to do with television or entertainment. Like all women, I am entitled to be treated with dignity and respect at work, and I should not have to accept unwanted sexual advances, crude comments about my body, or physical assault." In response to news of her settlement breaking, Pivarnick stated, "I said when the case was filed that it had nothing to do with television or entertainment and that remains true. Sexual harassment is serious and has devastating consequences for so many women. It has for #MeToo. Although I experienced horrendous treatment at EMS, I'm pleased with the resolution of my case and I look forward to using my voice to speak about the need to protect all women from sexual harassment."
Although protections against workplace sexual harassment were in place prior to the #MeToo movement, in 2017 the movement's momentum brought new and much needed focus to sexual misconduct in the workplace. In the late 1980's, the Supreme Court interpreted Title VII of the Civil Rights Act of 1964 to include discrimination based on "sex" as sexual harassment in the workplace. Title VII prohibits sexual harassment in the workplace and identifies two types: quid pro quo and hostile work environment. Quid pro quo harassment occurs when someone with the authority to confer or withhold an employment benefit demands sexual favors from an employee in return for that benefit. For example, when an employee has no choice but to submit to unwelcome sexual advances in order to avoid being demoted. Hostile work environment harassment occurs when an employee is subject to sexually offensive conduct that is so severe or pervasive that it alters employment conditions and creates an abusive work environment.
Under New Jersey state law, harassment based on sex is prohibited, although "sexual harassment" is not specifically mentioned in state law. According to the New Jersey Division on Civil Rights, sexual harassment includes unwelcome sexual advances, requests for sexual relations, and other verbal or physical conduct of a sexual nature. Employers in New Jersey are prohibited from requiring employees and job applicants to waive their legal protections, and as of March 18, 2019, any provision in an employment contract that purports to waive any substantive or procedural right or remedy regarding a harassment claim is unenforceable.
Reportedly, part of the sexual harassment Pivarnick suffered was in the form of inappropriate questions about how many men she had sexual contact with during her time on MTV's reality show, Jersey Shore. This type of unwelcome questioning is often present in workplace sexual misconduct. It is important to note, however, that a harassment victim's sexual past is never an invitation to engage in unwelcome sexual misconduct. In a sexual harassment lawsuit, a harassment victim's sexual behavior outside of the workplace is irrelevant to the proceedings and does not excuse an employer from engaging in sexual misconduct in the workplace. Sometimes known as "rape shield" laws, the Federal Rulesexplicitly include civil cases involving sexual misconduct including sexual harassment lawsuits. These laws ban parties from introducing into evidence a victim's behavior, "activities of the mind, such as fantasies", mode of dress, speech, or lifestyle. This type of evidence also cannot be used to disprove a victim's assertion that he or she was offended by sexual remarks or misconduct in the workplace. The courts have viewed the Rule as an affirmative bar to evidence that the plaintiff has engaged in or tolerated similar conduct in other contexts. In other words, what a person views as acceptable in other aspects of his or her private life is not probative of what that individual finds to be acceptable in the workplace.