After passing both chambers of the New Jersey legislature, yesterday Acting Governor Sheila Oliver signed S1790 into law amending the New Jersey Wage Payment law.  The amendments to the wage statute are long overdue and will provide employees with much needed legal protections against wage theft by employers. The new law strengthens existing wage law by providing steep penalties against employers that fail to timely pay their workers their earned wages and benefits.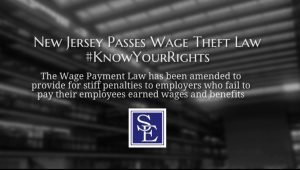 Wage theft occurs when employers fail to pay employees their earned wages and benefits in a timely manner. Wage theft violations can also include failure to pay minimum wage, failure to pay overtime, employee misclassification, asking employees to work off the clock, break violations, illegal deductions and other pay related violations. Wage theft is often rampant in industries with many workers in lower-wage jobs, making them particularly vulnerable to wage discrimination and retaliation. 
The amendments to the New Jersey wage statute are game-changing. They provide the much needed teeth for employees to fight back against employers who engage in wage theft.  Under the new law, an employee will now be able to seek liquidated damages in an amount up to two (2) times wages owed. The new law will also allow employees to recoup reasonable attorneys' fees and costs incurred in litigating a wage theft claim against an employer or former employer.  The new provisions will assist aggrieved employees with access to competent wage theft employment lawyers to represent them and deter employers from committing future wage theft violations. The new law also changes the statute of limitations from 2 years to 6 years. The change to the statute of limitations is being interpreted by many employment lawyers to allow employees to bring a claim of wage violations for up to 6 years if the same violation occurs after its August 5, 2019 passage.