Many businesses and schools have or will be closing due to the Corona-Virus.  While some New Jersey workers can still perform their job duties and responsibilities from home, others cannot and will be temporarily or permanently separated from their employment.  For those people who are separated from their employment for COVID-19 related reasons, there are various local, state or federal governmental run programs that provide for paid benefits to impacted workers.  For New Jersey employees who find themselves unemployed due to COVID-19, they two programs that could provide for temporary relief are New Jersey Unemployment Insurance and the "Emergency Paid Leave Act of 2020" program  that was passed into law late Friday night.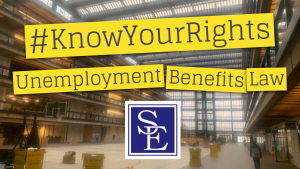 New Jersey Unemployment Insurance Law provides for unemployment benefits for employees who are separated from their work due to no fault of their own.  Employees who are unable to perform their job duties and responsibilities at home during a Corona-Virus related business closing may be eligible to collect unemployment benefits if they meet all other eligible requirements, including the minimum earnings requirement.  Benefits under the New Jersey Unemployment Insurance program are available up to 26 weeks per year.  Eligible employees are paid 60% of his or her average weekly wage earned during the base year, with a maximum week benefit up to $713.  The current maximum total benefit for one worker to receive is $18,538 for 26 weeks of unemployment.
Workers who become eligible to receive unemployment benefits are required to be show they are (1) able to work; (2) actively seeking work; (3) available for work: and did not refuse any offer of suitable work.  While securing a new job during the Corona-Virus pandemic could prove very difficult, any person collecting unemployment benefits should still actively seek for work during their period of unemployment.  This includes applying for any open and available jobs and keeping all documentation to prove he or she conducted a diligent job search efforts should the Department of Labor request the information relating to the job search.