In the midst of increased public scrutiny concerning allegations of a toxic work environment, NBC has announced that it will not seek to enforce any non-disclosure agreements ("NDA") against any former or current NBC employee who wishes to speak openly about incidents of sexual harassment.  The announcement comes in response to recent reports that several former NBC employees are unwilling to speak publicly about their experiences of sexual harassment at NBC in fear that they would be breaching the NDA's if they did so. While NBC maintains that the NDA agreements never prohibited employees from speaking out against sexual harassment, at least a few employees have been reported to believe differently.  The announcement should resolve any confusion of whether former or current NBC employees' can speak freely about the NBC work environment. It also serves as a reminder to all employers of the significant legal risks associated with attempting to use NDA's to keep employees silent about issues of workplace discrimination.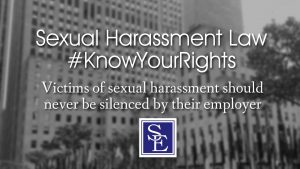 The #Metoo movement has encouraged many victims of sexual harassment to openly and publicly discuss their experiences in working in a hostile work environment.  For far too long, victims of sexual harassment have remained silent and not hold the perpetrators responsible for the grave harms caused by their actions.  Many times, the decision to stay silent is voluntary. Victims would rather try to ignore what happened for fear that they will not be believed, their employer will not take any action, or even worse, suffer retaliation.  In fact, according to the report of the 2016 Task Force on the Study of Harassment in the Workplace, the least common response of a victim of harassment is to take some form of formal action, whether it be report the harassment internally or file a formal legal lawsuit.  In fact, approximately 75% of victims of sexual harassment will never talk to management, HR or a union representative about an incident of workplace sexual harassment.
Other victims of sexual harassment cannot speak freely about their experiences because they signed a written NDA contract with their former or current employer.  An NDA prohibiting an employee from discussing workplace sexual harassment is typically executed either when an employee starts his or her employment, or when the employment is separated.  When starting employment, many employers require the employee to sign employment agreements that include confidentiality of company trade secrets, proprietary information and other aspects of the employment that require confidentiality.  Some employers attempt to use these provisions to restrain current or former employees from disclosing incidents of workplace sexual harassment and deem them "confidential" under the NDA provision. While these confidentiality provisions in employment agreements are in most situations unenforceable as against public policy, many employees feel restrained by the provision and remain afraid to breach it.  Some employees are even afraid to speak to an employment attorney for advice and counsel concerning their rights under anti-discrimination laws. 
An employer's requirement of an NDAs prohibiting individuals from disclosing their personal knowledge and experiences with workplace sexual harassment are even more typical in separation or settlement agreements.  Most severance agreements require an employee to not only release their rights to sue in exchange for severance, but to also hold confidential the very existence of the former employer's confidentiality and non-disparagement clauses that prohibit their ability to discuss any issues of sexual harassment that occurred during their employment.  In situations in which the employee makes a claim of sexual harassment that results in a settlement agreement, these provisions are even more common in the written settlement agreement.  
The NDA provisions in these agreements result in burying the sexual harassment as if it never happened.  There have been reports of powerful men such as Harvey Weinstein, Bill O'Reilly and Matt Lauer, engaging in repeated incidents of sexual harassment, quid pro quo sexual harassment and in some cases, sexual assault, of women for a long period of time.  Far too often, this code of silence results in the sexual harasser victimizing other employees, and the cycle continues.
Several states have recently barred employers from using NDAs to keep issues of discrimination and harassment confidential.  On March 18, 2019, Governor Murphy officially signed S–121 into New Jersey state law, which makes provisions in employment agreements or settlements that waive any of an employee's substantive or procedural rights relating to claims of discrimination, retaliation, or harassment, or that otherwise waives any right or remedy granted under any statute or case law, unenforceable as against New Jersey public policy.  N.J.S.A. 10:5–12.7. Under the new provision of the New Jersey Law Against Discrimination, employers are strictly prohibited from concealing the underlying details of sexual harassment and other claims of discrimination through the use of non-disclosure or confidentiality provisions in employment contracts or settlement agreements. Id. The Non-Disclosure Bill also protects employees from facing retaliation for not entering into agreements or contracts that require them to waive their substantive or procedural rights.  Id. 
There are also a few federal laws and regulations that can been employed by to limit an employer's ability to use NDAs to keep issues of discrimination and sexual harassment confidential. In situations where the employer is a government entity, some employment lawyers have argued that the NDAs constitute an unconstitutional prior restraint on First Amendment protected speech.  For private employees and employers, the National Labor Relations Board ("NLRB") has condemned employer policies that silence employees from discussing their knowledge of issues of workplace misconduct and alleged harassment. See Banner Estrella Medical Center, 362 NLRB No. 137 (June 26, 2015).  In this case, the NLRB held that a blanket policy requiring confidentiality from employees who participate in a workplace investigation to be unlawful because of its limitation on employees right to engage in protected activity concerning the terms and condition their employment.  
While former and current employees of NBC are now free to speak out against issues of sexual harassment and discrimination, there remain far too many employees being contractually restrained by former or current employers.  The #MeToo Movement has certainly advanced the empowerment of victims speaking out against their harassers and assaulters. While New Jersey and other states have taken gigantic steps to prohibit employers from requiring employees to remain silent on issues of sexual harassment, the use of NDAs by employers to bury incidents of sexual harassment continue to impede progress in ending workplace sexual harassment.