In recent years, allegations of sexual harassment and sexual misconduct have abounded throughout the United States, and, particularly, in the Hollywood spotlight. In response to continuing and increasing numbers of allegations of sexual harassment and misconduct in the entertainment industry, the Hollywood Commission on Eliminating Sexual Harassment and Advancing Equality formed in 2017.  The organization's mission is "leading the entertainment industry to a strong and equitable future by defining and implementing best practices that eliminate sexual harassment and bias for all workers, especially marginalized communities, and by actively promoting a culture of accountability, respect and equality."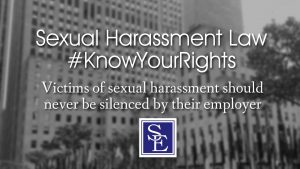 The Commission is founded and chaired by Anita Hill, a law professor who became an icon for the #MeToo and #TimesUp movements before they existed in 1991, when she accused nominated Supreme Court Justice Clarence Thomas of sexual harassment. While Hill did not publicly oppose his nomination, a confidential FBI interview with Hill was leaked to the press, prompting Senate hearings on Justice Thomas' nomination to be reopened. Hill testified that Thomas, her supervisor at the Department of Education and the Equal Employment Opportunity Commission (EEOC), had sexually harassed her. In light of Thomas' denial of her allegations, Hill agreed to take a polygraph test – the results were consistent with her testimony. In Thomas' 2007 autobiography, My Grandfather's Son, Thomas refers to Hill as his "most traitorous adversary". Hill's work advocating for women in the workplace has continued, as she now leads the charge against sexual harassment in the entertainment industry.
Hill stated, "The Me-Too movement sent shockwaves throughout the Hollywood community. We all know that there is work to be done to create safe and respectful workplaces in the industry. Our next step is to understand the state of the industry today, so that we can implement effective solutions." Recently, the Commission joined with the Ethics & Compliance Initiative, a non-profit research organization focused on empowering organizations to build and sustain high-quality ethics and compliance programs and cultures of integrity, to develop a survey.
In November 2019, the Commission launched the industry-wide surveywhich is aimed at gathering information to address sexual misconduct in the entertainment industry. The anonymous survey can be completed online and the survey targets include anyone in the entertainment industry, including actors, dancers, wardrobe stylists and PR agencies. The results and data will be used to develop policies to prevent and addressworkplace harassment and bias. As of December 9, 2019, Hill confirmed that "thousands" had already responded to the survey. The Commission anticipates releasing a summary of the findings in early 2020.
The Commission's 2019 strategic priorities include initiatives aimed at protecting freelancers. The freelance workers in the entertainment industry represent a significant segment of the industry and many are not covered by existing workplace structures. The Commission's first step to this end is to develop a code of conduct, a reporting and response system and anti-bias training programs for freelance workers, to be established through employment or union or guild memberships.
The Commission's work is done collectively, with effort, engagement and input from stakeholders throughout the entertainment industry. While the Commission's work is focused on sexual harassment and abuse in the entertainment industry, it also aims to explore and address racial, ethnicand gender bias as well. The Commission hopes to set a standard, as the first industry to attempt to address and "eliminate the systemic problems that create and support power abuses in the workplace by working with Hollywood decision-makers to effect industry-wide change."
New Jersey has taken recent steps within state politics to address sexual harassment by forming the Workgroup on Harassment, Sexual Assault and Misogyny in New Jersey Politics. Lead by state Senate Majority Leader Loretta Weinberg, the newly formed committee of 11 women in politics and government is also undertaking efforts to gather information via anonymous surveys, public forums and private meetings, to identify ways to change the "toxic culture" for women in the state's political system.
"The challenge before us is how to ensure that women can come forward and share their experiences safely, privately and without fear of intimidation or retribution from those responsible for the harassment and abuse, from those with a vested interest in protecting the political careers of those responsible or from those who encouraged or allowed a toxic political climate to develop," said Senator Weinberg at a news conference on the matter.
The committee was formed, in part, in response to NJ Advance Media's December 30, 2019 article addressing the pervasive sexual harassment and assault throughout New Jersey's political arena. The article shared the experiences of 20 female campaign staffers, lobbyists, political operatives and lawmakers of being groped, sexually propositioned, harassed or marginalized while trying to build careers in state and local politics.
With movements taking place in a variety of arenas, including politics and entertainment, across different geographic regions, there is hope for change.  The  systemic issue of sexual harassment and sexual misconduct in the entertainment industry has been left unaddressed for far too long.  The Hollywood Commission on Eliminating Sexual Harassment and Advancing Equality is an important step in addressing this long over due issue to address the systemic issue of sexual harassment and assault.